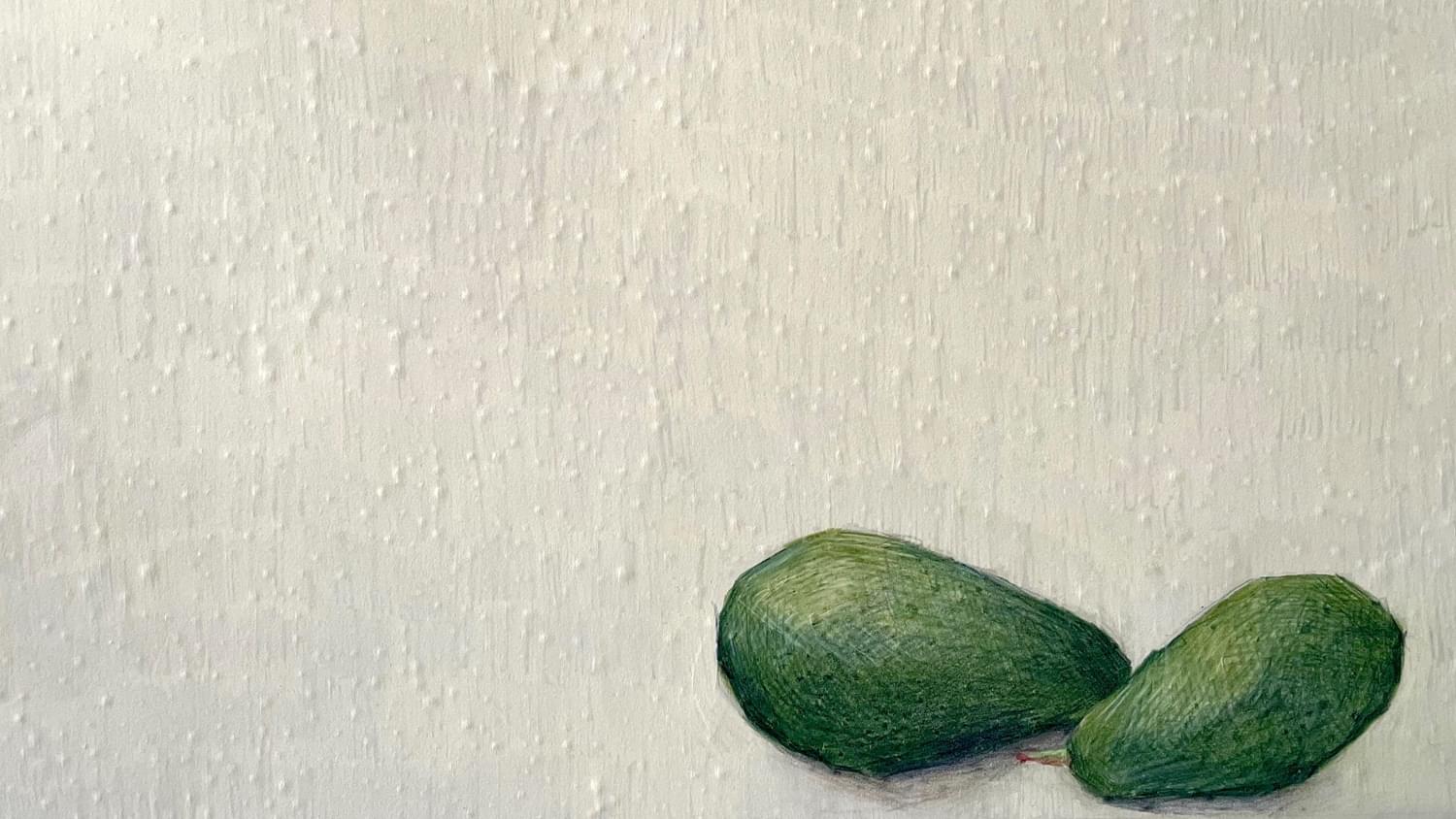 Image caption: Yosra Emamizadeh. Avocados. 2022. Coloured pencil on paper. 56 x 38 cm.
---
An integral part of Tashkeel's annual exhibition programme is an open call exhibition addressing a theme of timely relevance to society and the world in which we live. So, in January 2022, Tashkeel called upon artists and designers living and working in the UAE to submit artworks and design pieces in all mediums that explored issues around the philosophy of food through a wide range of interpretations, whether literal or abstract.
In a place that currently imports 80 per cent of its food, can we ever become a self-sufficient society, able to nourish ourselves while preserving the natural resources around us and reducing waste? Will such a major shift restrict the way we live or give us greater autonomy, enabling us to realise a vision where the true agricultural and culinary potential of this country is fulfilled?
A monumental shift is required in the way we approach food; how we source it, prepare and consume it. So how do we change our thoughts as well as our actions? Where do we begin? Technology will provide countless solutions for the future, from climate-proofing land agriculture to bio-designing aquaculture. It will help us identify alternative proteins and other new sources of nutrition. Yet it is us who require the greatest inquiry of all to truly change. Today's sustainable food movement is global. Unled yet inspirational, it requires us to be more reflective on food, our values and choices, living by principles based on the importance of science, the recognition of restriction and the need for wholesome sustenance.
We must adopt, adapt and embrace a new philosophy of food.

__________________________________________________
Engage with the subjects and ideas highlighted in the works in this Tashkeel group exhibition through a range of workshops, talks and guided tours. Bookings will open soon.
______________
Guided Exhibition Tours
Tuesday, 8 March: 6-7pm; 7-8pm; 8-9pm
Sunday, 20 March: 11am-12pm; 12-1pm
Sunday, 27 March: 11am-12pm; 12-1pm
______________
Workshops, Walks & Talks

Friday, 11 March, 9am-1pm
Photowalk: Emirates Soil Museum, ICBA Experimental Garden & Halophytic Kitchen Lab.
Combining photography with learning about soils, vegetation and cooking halophytic products at the International Centre for Biosaline Agriculture, this session encourages participants to question the make up of the very land we walk on and reconsider the minutiae and seemingly invisible through their cameras.
Sunday 13 March, 11am-12.30pm
DIY Mushroom Farm
Exhibiting artists Lena Obaid and Abdullah Al Saadi discuss their bio-art installation '(mush) Room' and explain how to start your own at-home mushroom farm. This informative session offers a better understanding of the role mushrooms play in the sustainable food cycle and the importance of fungi in the biosphere.
Wednesday, 30 March, 5-7pm
Sustainable Package Design Workshop
Join industrial designer Hamza Omari for an introduction on package design and the materials and styles used. Each participant will build their own packaging, incorporating the concepts covered in the session. Ideal for small businesses owners and entrepreneurs.
Tuesday, 12 April, 8-9.30pm
Tashkeel Talk: Climate of Design - Design of Climate.
Pioneering interdisciplinary designer Charlotte McCurdy looks at the process behind her award-winning project "After Ancient Sunlight" and the material innovation in carbon-negative textiles that emerged. Her work, which investigates climate change through a designer's eye, points a way to a vibrant future where we have the opportunity to reverse climate change.