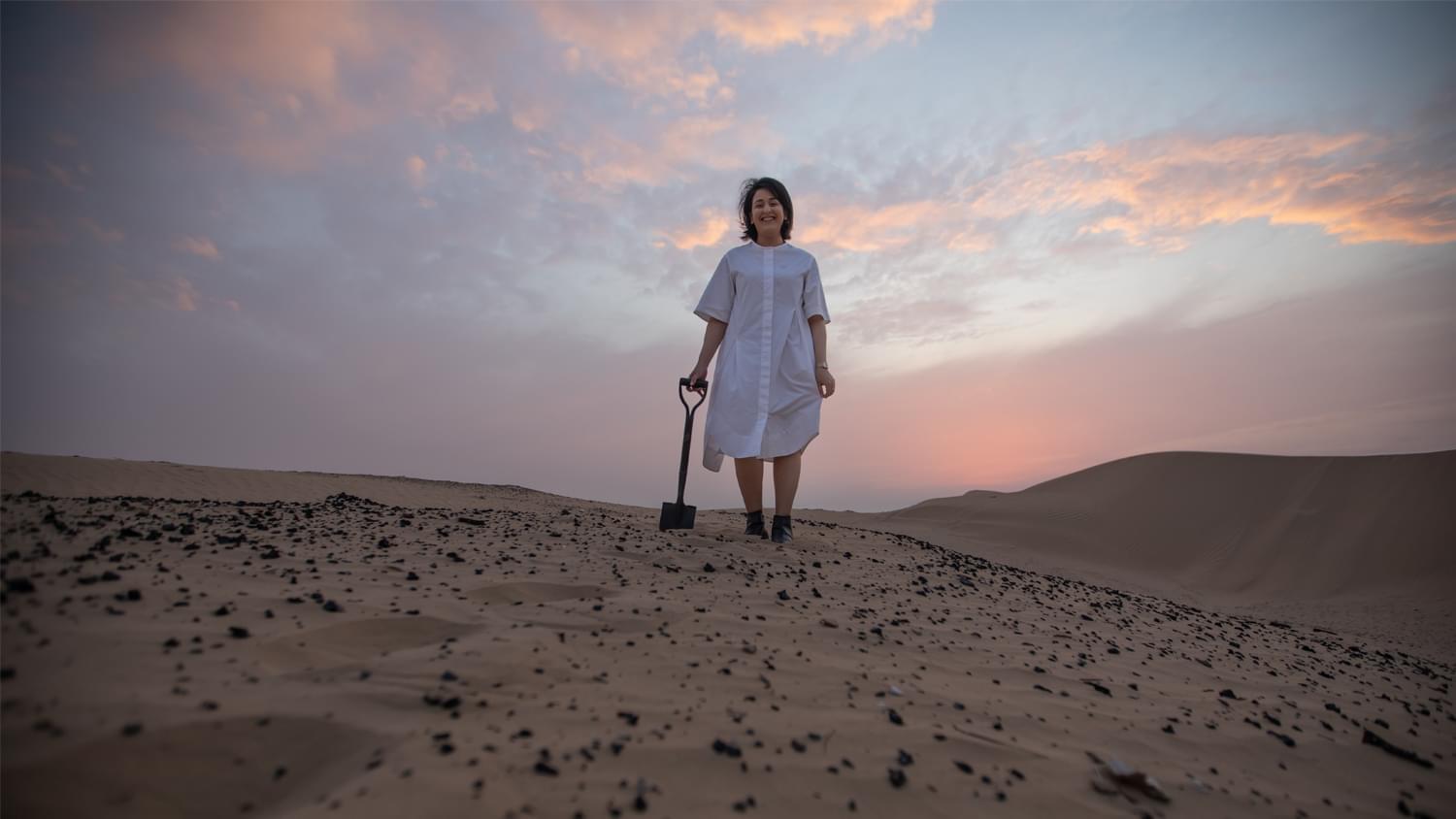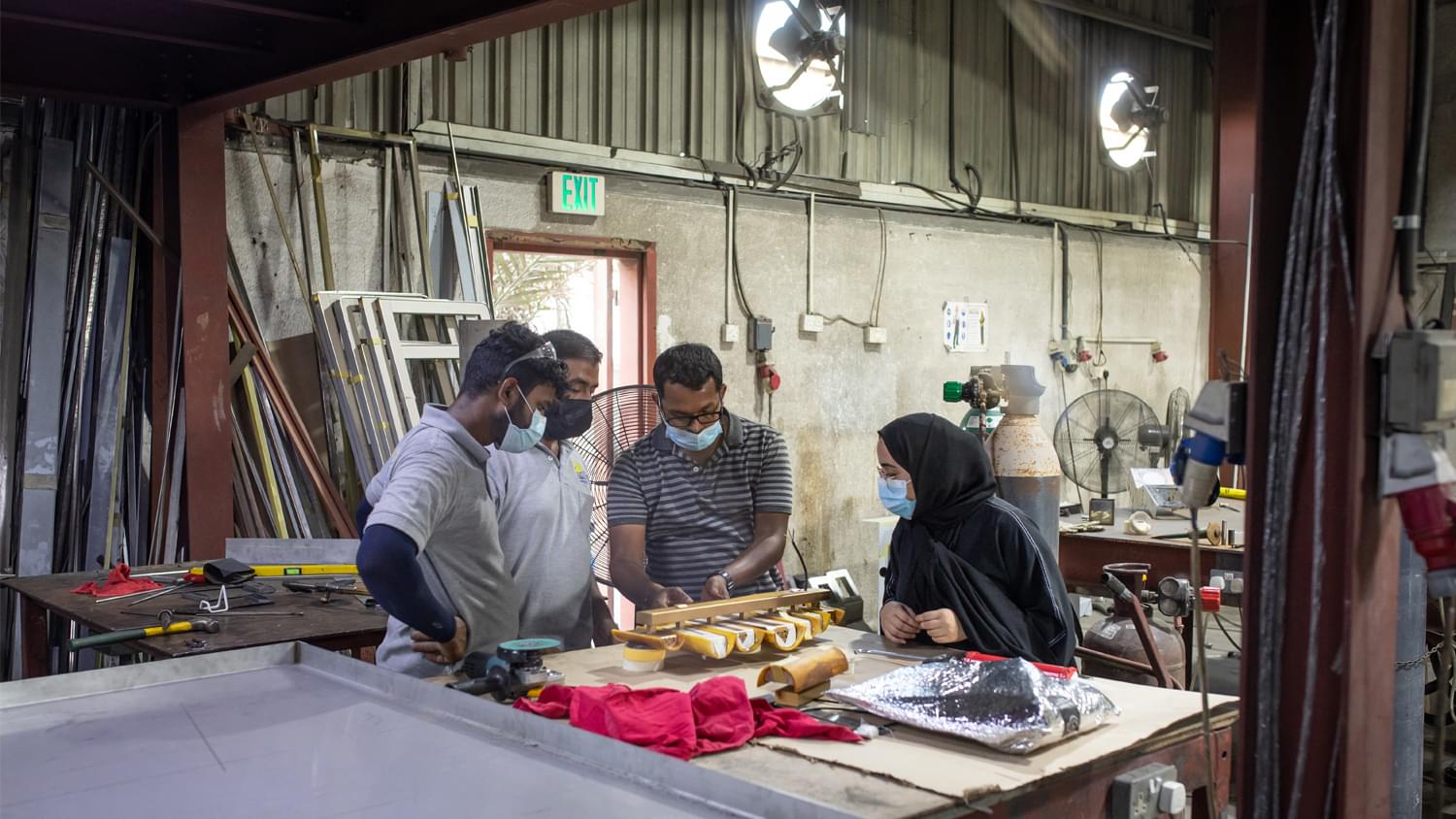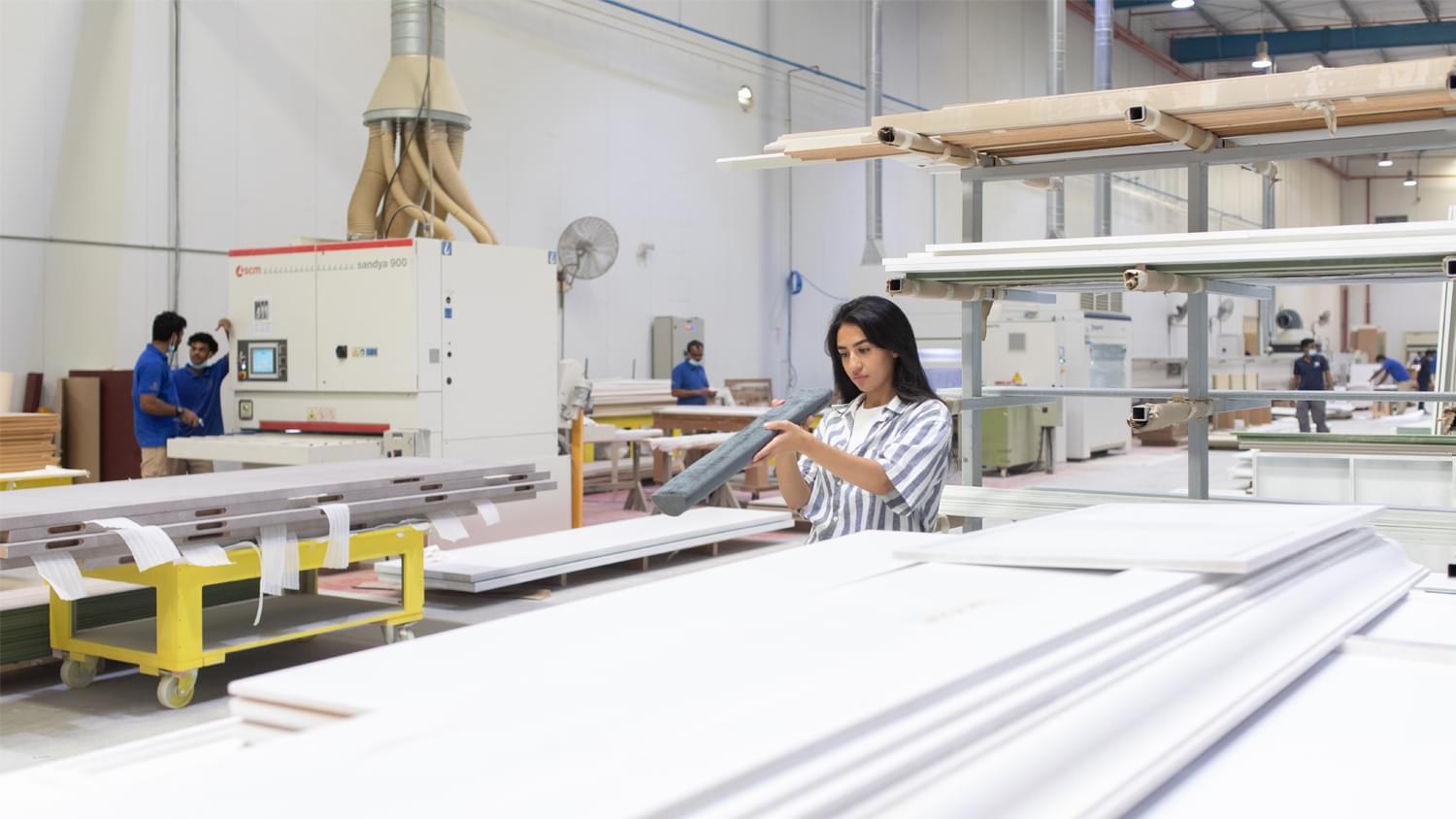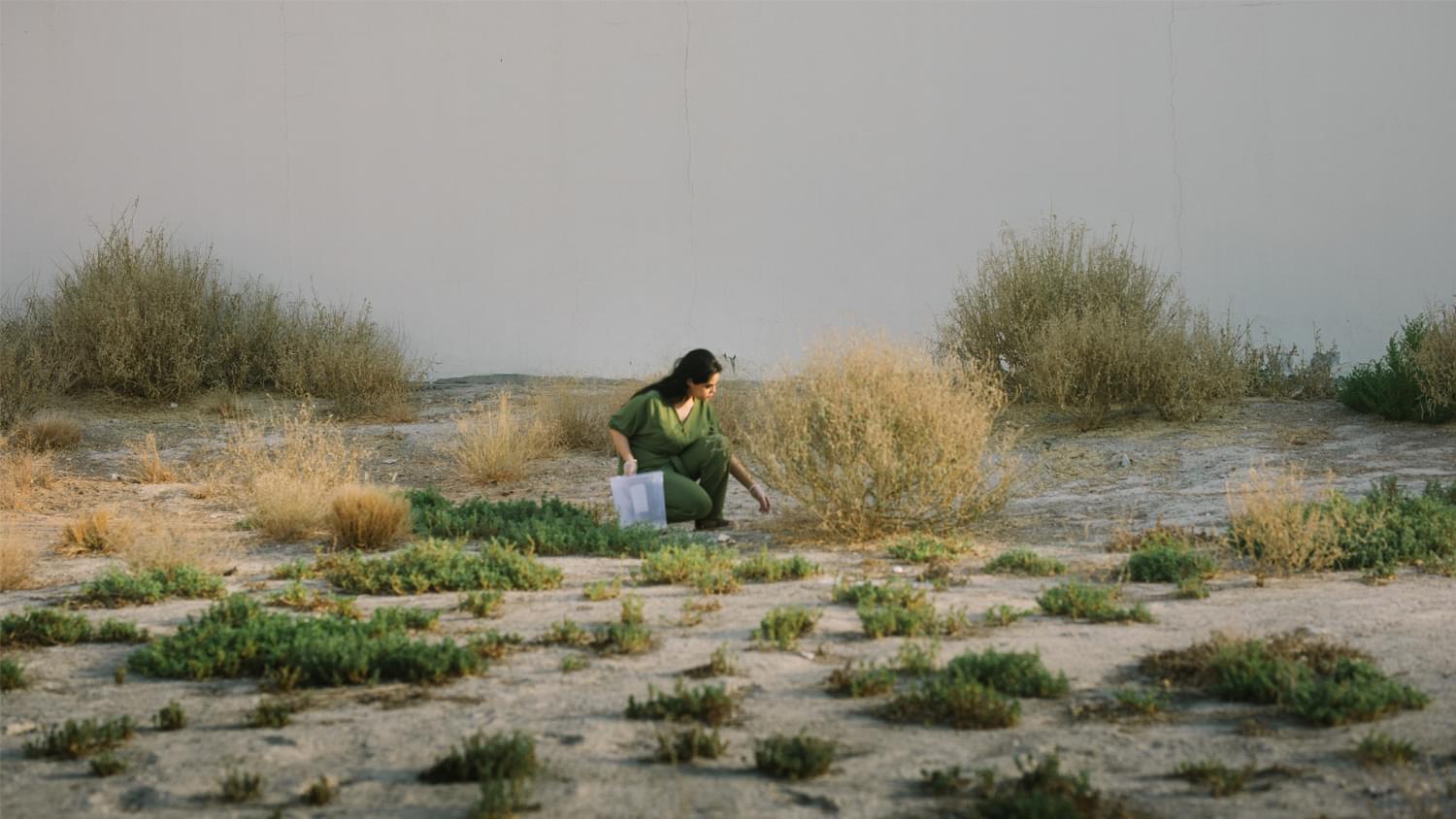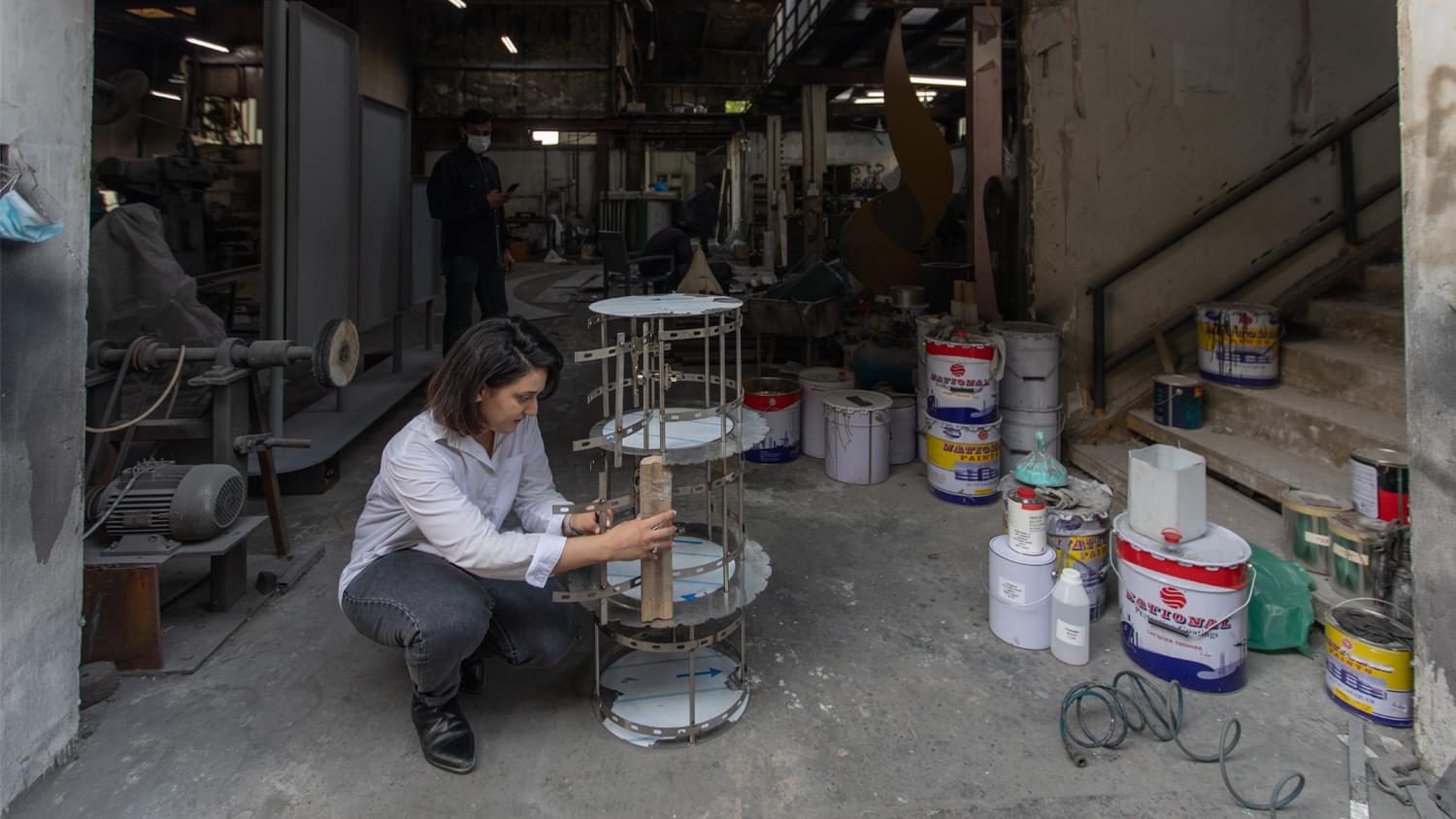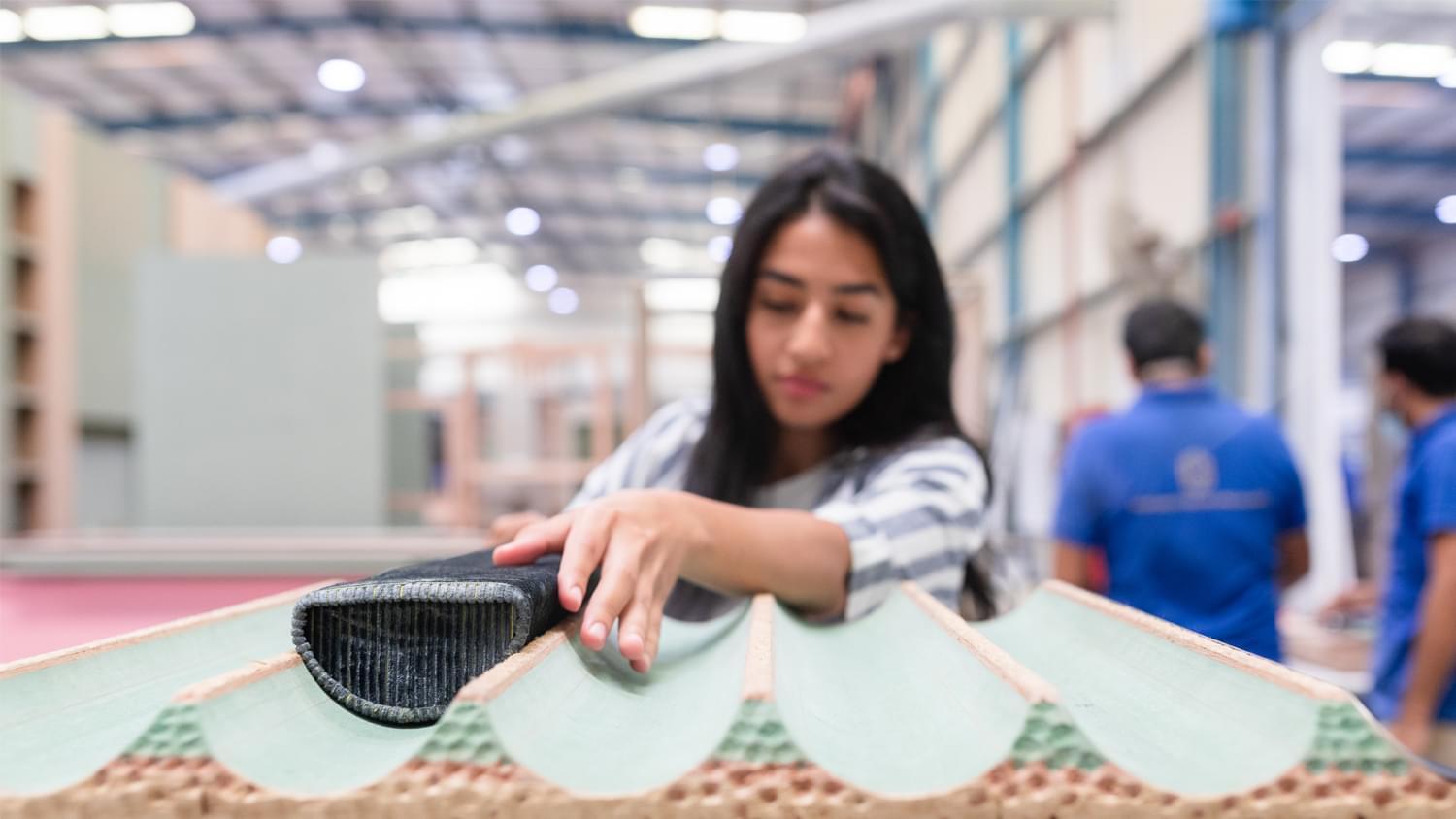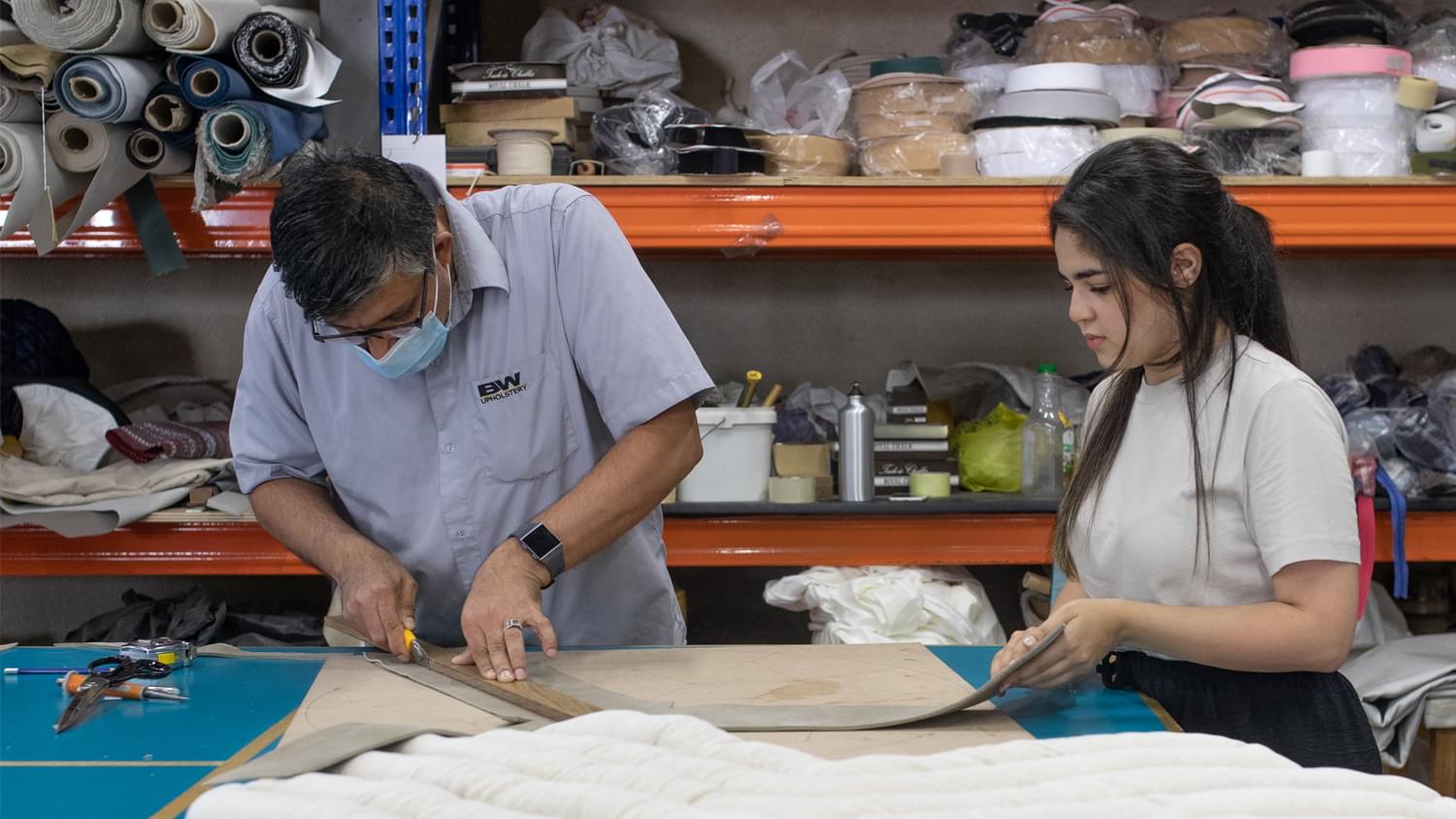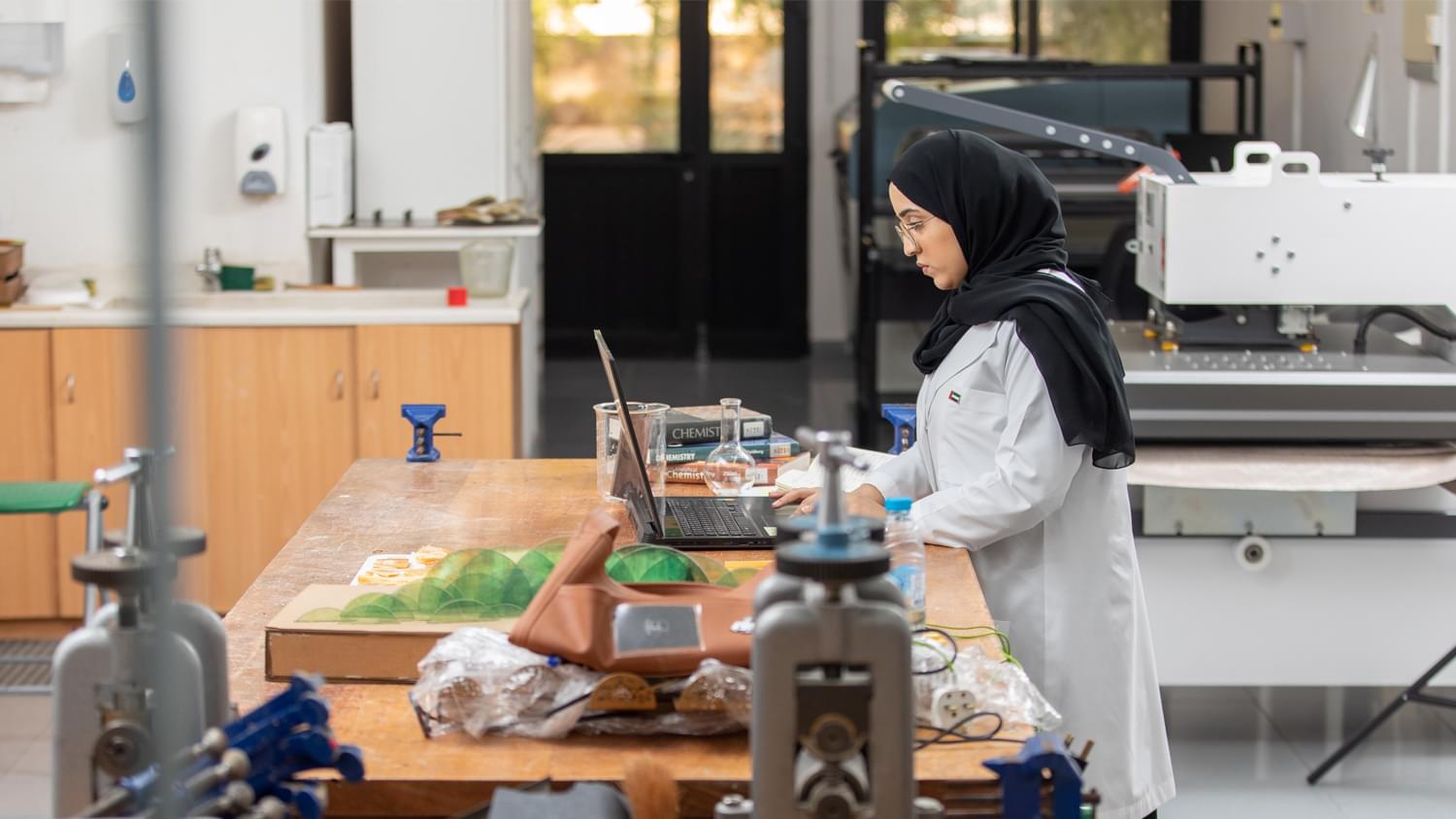 For Tanween 2021, Tashkeel selected Eman Shafiq, Khawla Al Balooshi, Nuhayr Zein and Tasnim Tinawi undertake the year-long, fully-funded professional training programme that focused on the intersection between design and science. Led by local and international mentors, the designers embarked on a journey of research and experimentation to define a product concept and engage in material innovation inspired by the UAE.
The 4 designers collaborated with local botanists, scientists, engineers and manufacturers and created 4 unique design pieces that were debuted at Downtown Design, Dubai Design Week 2021.
__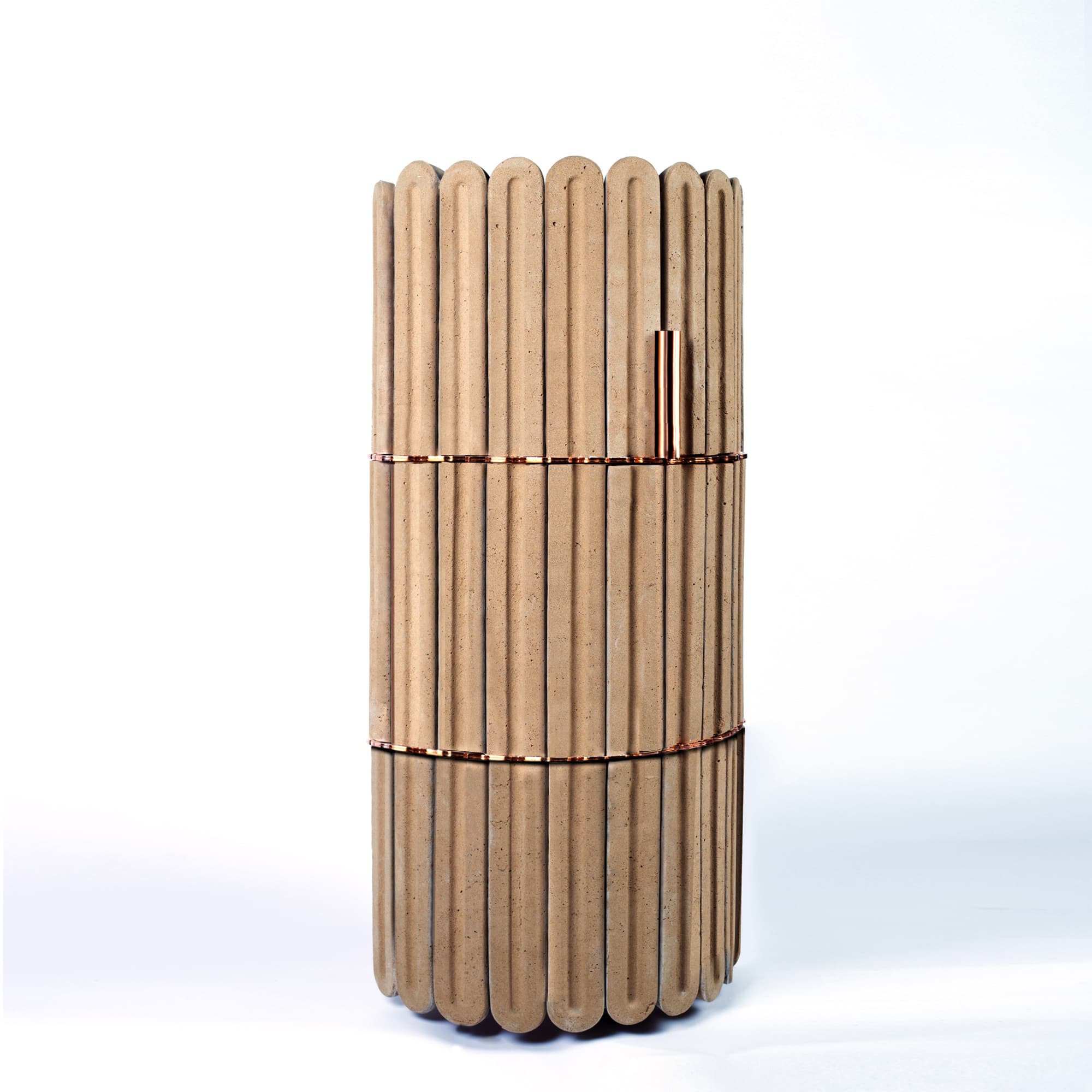 Eman Shafiq
Sehra by Eman Shafiq serves as an example of the functional potential of BioSand, a biodegradable material that has minimal impact on the environment from production through to the end of its lifespan. Designed to have a profound, yet minimal presence within a space, the cabinet speaks to the unique characteristics of the material and its abilities to adapt for architectural uses. With an internally exposed structure, Sehra displays a connection system for the BioSand panels that is similar to that used for architectural cladding.
__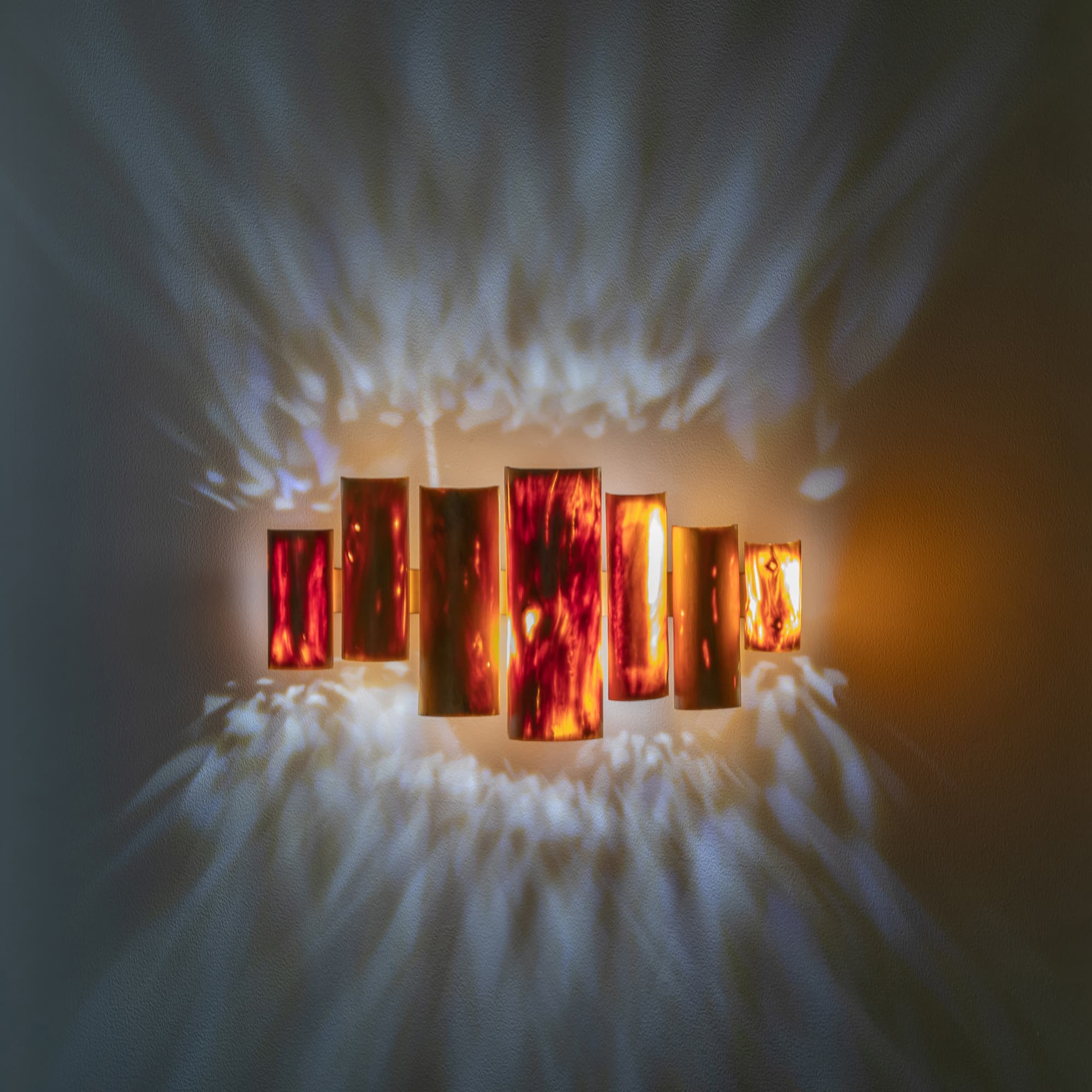 Khawla Al Balooshi
Taht Al Ghaf by Khawla Al Balooshi seeks to pay homage to the ghaf. 'Oud' in Emirati dialect means a group of ghaf trees concentrated in one area. The limited edition piece consists of seven pieces of treated wood, shaped as half cylinders – a simple design to highlight the material and showcase the detail of the treated bark. The shadows cast seek to echo the tree's heritage as a natural shade from the desert sun. The golden tones emitted not only suggest the rays but also the warmth of fires after dark, a nostalgic reminder of past traditions and the importance of family. Taht Al Ghaf evokes the image of the desert; the colour of the sand and the undulating waves of the dunes. Amid the emptiness, a solitary tree stands resilient, saturated by the sun.
__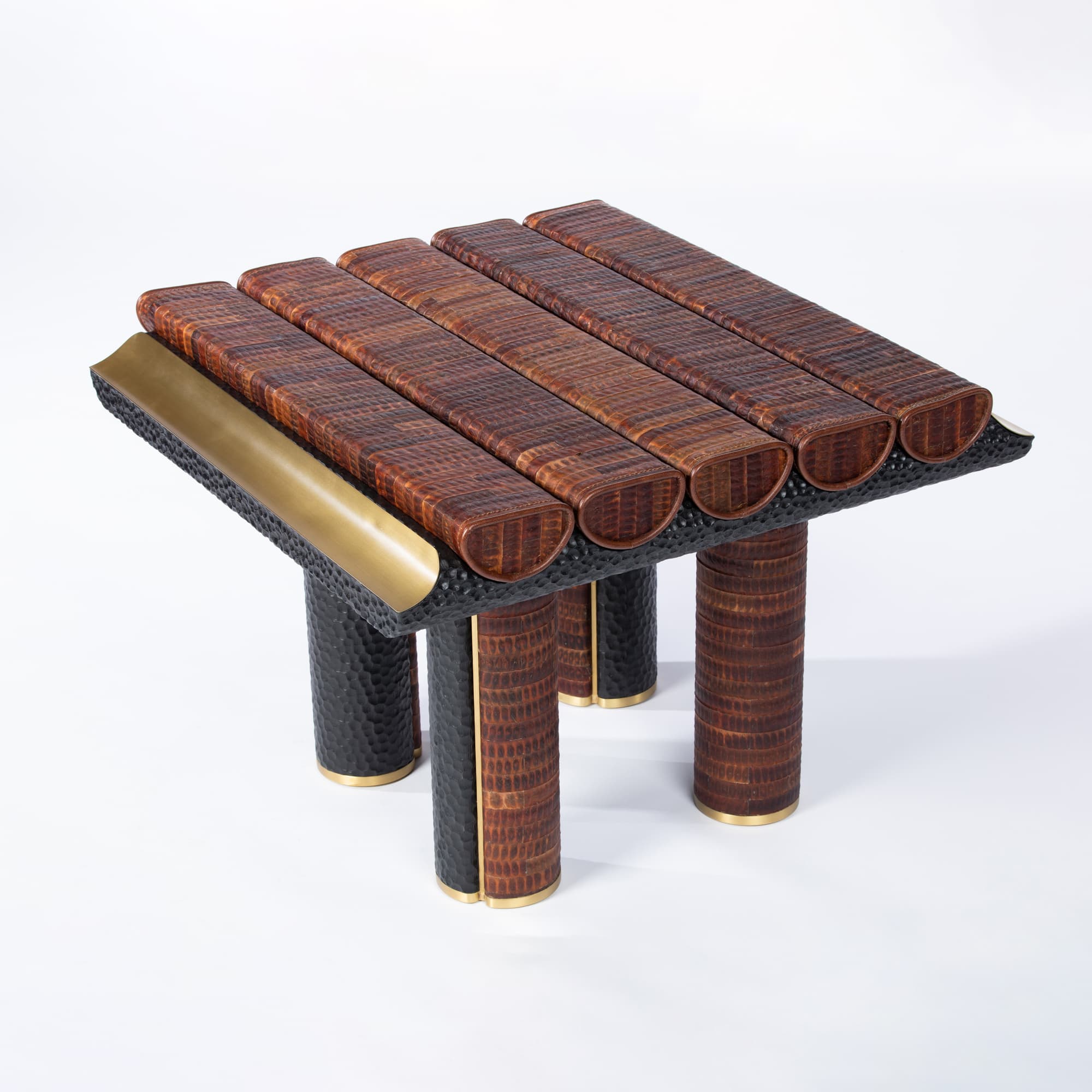 Nuhayr Zein
Tracing our disconnection from nature and our current over-reliance on technology, Nuhayr Zein aims to create a balance by fusing machine-made with nature-made, modern with traditional, and present with past in one intricately made piece. This duality is reflected in the careful choice of materials used, where digitally carved oak wood is contrasted by Leukeather, a sustainable plant-based and naturally textured material developed by Nuhayr as an alternative to exotic leather. This piece explores the symbolic value of working with nature rather than against it by sustainably altering two natural materials (dried pods and solid wood) to give them acquired traits only achievable through human intervention.
__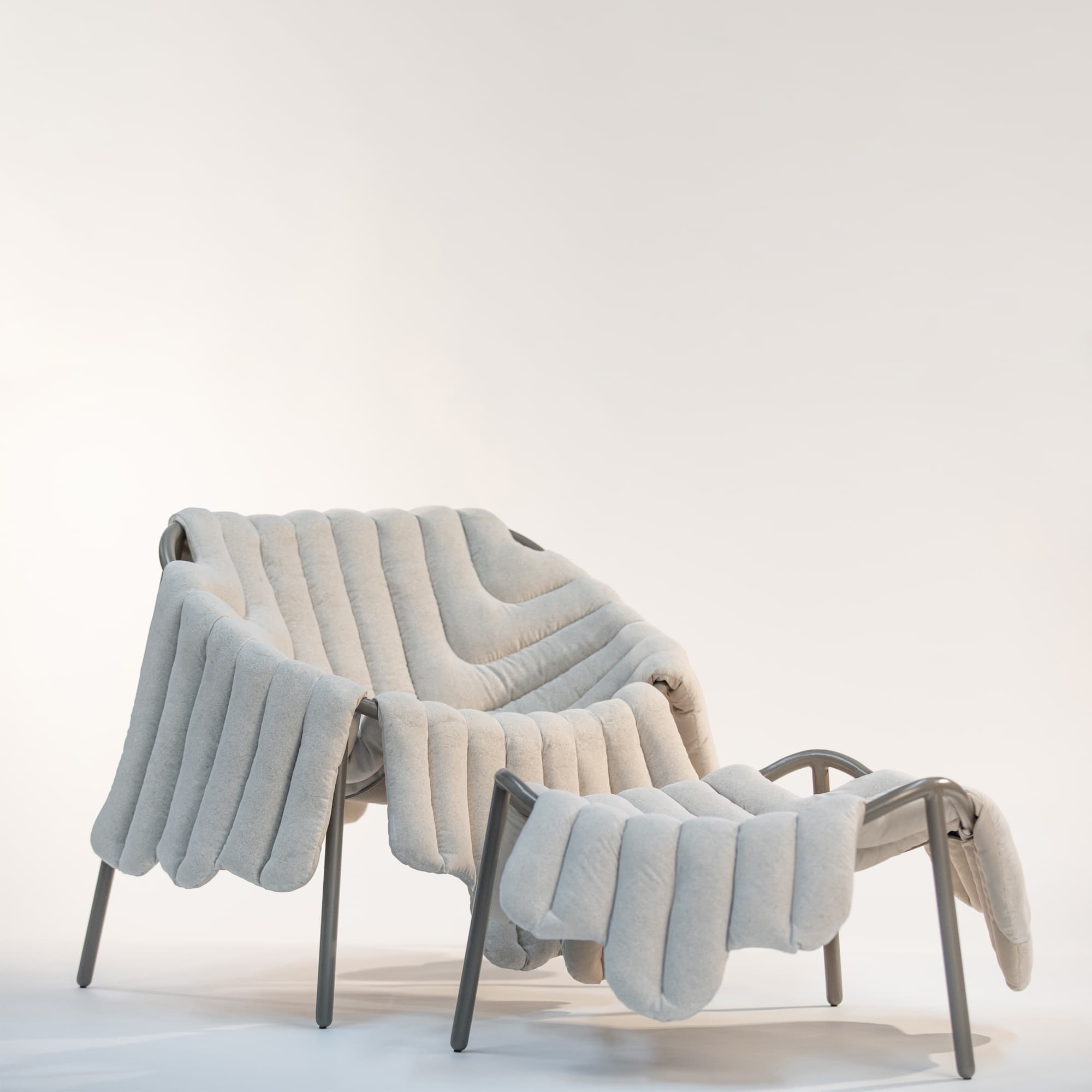 Tasnim Tinawi
The Kapok series by Tasnim Tinawi culminates from extensive research on desert-cotton as a fully developed material. Desert-cotton is sourced from the cotton buds of a native, salt-tolerant shrub Aerva Javanica, known more traditionally in the region as 'Tuwaim' or 'Al Ara'. For upholstery applications, the cotton buds were intensively screened, dried and treated. Later investigations looked at how it could be contained within fabric. The material lent itself to be enclosed in tight cushion sections that were used as draped elements on a frame. The resulting form provides an elevated, comfortable and soft plush seat that one can almost sink into.

Tashkeel began providing professional training in product design in 2011, first in collaboration with Dubai Culture and Arts Authority and the Creative Dialogue Association, Barcelona (Spain) and then with PAL Labs (UK). It launched the Tanween design programme in 2013 and debuted the first designed products from it at Design Days Dubai.
Since its inception, the programme has trained 26 designers and manufactured 39 limited-edition furniture and lighting pieces, a selection of which are featured in the Tanween Collection, available for purchase.
Mentors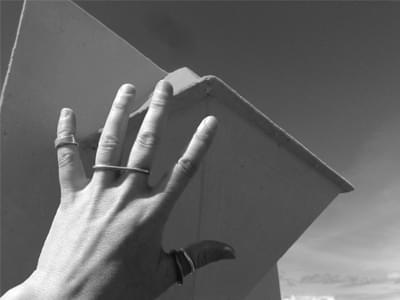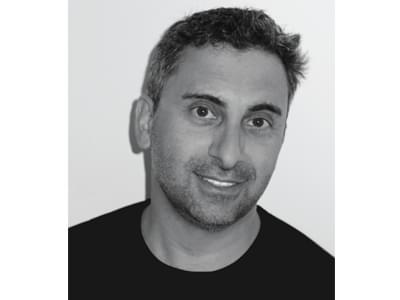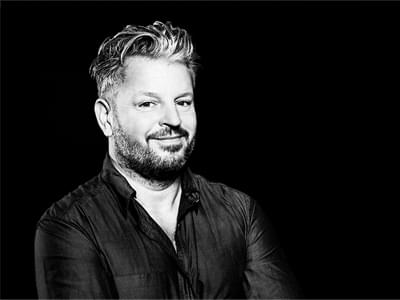 Opening Hours
Tashkeel Alserkal
Gallery, Unit 26, FN Designs, Alserkal Avenue
Sun-Thu 10am – 7pm, Fri 9am–12pm
(closed Saturdays & public holidays).
Makerspace, Unit 89, Alserkal Avenue
Sat-Thu 10am – 7pm
(closed Fridays & public holidays).


Tashkeel Al Fahidi
House 10, Al Fahidi
(members only)


Tashkeel Nad Al Sheba
Nad Al Sheba 1

Temporarily closed for renovation
How to find us