Meet the Designer - Studio MUJU
28 February 2016
What was it about Tashkeel's Design Programme, Tanween, that interested you?

We are both very interested in the process of making, especially within the local context. When we heard about the Tanween programme, and how it encourages working with a local crafts person, we thought it was the perfect place to start designing our own products that are inspired and made solely in the UAE. With the mentorship and support of Tashkeel, the programme appeared to be a great opportunity for us to express and develop our own design aesthetic within the realm of product design.
What materials have you explored and discovered whilst on the programme?
We have always been fascinated with the ancient Bedouin art of sadu weaving, and due to this programme's cultural content, we thought that it would be a perfect opportunity to utilise this material process. Sadu is a form of weaving that has recently been added to UNESCO's list of Intangible Cultural Heritage of Humanity, and is in need of urgent safeguarding. It's an extremely intricate and time-consuming process, which has been fading due to the fact that the few older members of society that still practice this skill are steadily declining in number. We came to learn that the iconography and patterns in sadu were a critical story-telling medium, used to describe daily Bedouin life. We designed a floor lamp that is a direct ode to the process of weaving; the shade acts as a loom with lengths of yarn stretched and stitched into traditional patterns, giving the visual effect of the weaving process being frozen in time. We then juxtaposed the delicate woven fabric with contemporary materials such as cast concrete, metal and timber.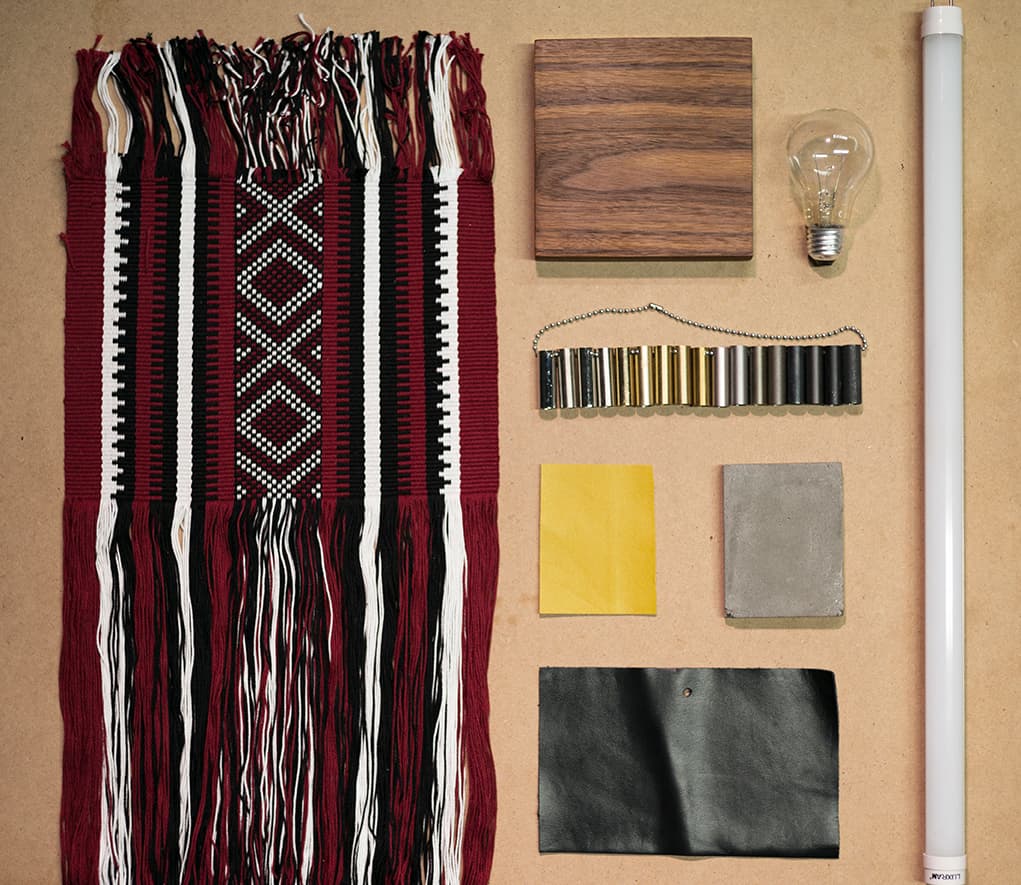 Who are you collaborating with on your project and what is the nature of the collaboration?
Our collaboration with the Emirati weaver and artisan, Um Ahmed, started as a strictly professional one, but soon developed into a much deeper and meaningful relationship where cultural boundaries were crossed; the telling of old tales and the discussion of new ideas were brought to light. Watching Um Ahmed's henna adorned hands hypnotically working her loom, we came to realise the importance and intricacy of this process. Her selfless dedication and passion towards this fading art form instigated within us a new level of responsibility to help protect and preserve it as contemporary designers.
We were also fortunate to collaborate with talented local joiners to create the structure of our lamp and chair. Together we spent countless hours brainstorming elegant solutions to the technical components of our products, as well as their final forms.
How have the labs and mentoring sessions influenced your process?
The labs and mentoring sessions were extremely helpful as they pushed us to strengthen our original design concept and to refine our process. We were encouraged to challenge our preliminary design intent and to embark on an iterative process to achieve the most resolved end product. The mentors provided valuable advice regarding the market placement of our products, and the development of our individual business strategies. Engaging in thought provoking discussions, and sharing feedback with other designers in the programme was also extremely helpful as we all come from various design backgrounds.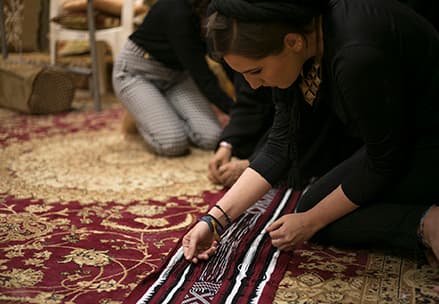 What have been your challenges so far?
Our main challenge was finding a weaver who was willing to collaborate with us on this project, and who was open to the adaptation of this art form. Sadu weaving is mostly practiced by older women who live in tight-knit communities, in rural areas of the country, which makes reaching out to them incredibly difficult.
Convincing larger scale commercial factories to work with us on one-off bespoke products was another challenge. We've also struggled with finding local makers who are open to discussing new ideas, and willing to work outside their comfort zone. After extensive research, we were extremely fortunate to find the right group of people to collaborate with us on this project.
What do you hope to take away from this experience?
We hope that we succeed in bringing attention to the beauty and importance of the art of sadu weaving, and that we managed to create a new platform for local weavers to produce their work in a contemporary setting. By redefining this ancient art form, we would like to give back to the fading community of artisans and generate a new source of income for them. We also hope that consumers from all walks of life will be able to relate and interact positively with our furniture pieces, and identify them as a unique representation of a contemporary Emirati aesthetic.