Debjani Bhardwaj
Home Country:

India

Disciplines:

Illustration, Painting, Sculpture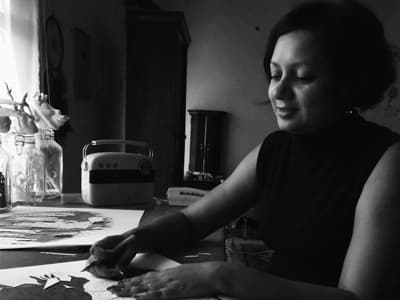 Originally from Kolkata, India, Debjani Bhardwaj completed her MBA from Birla Institute of Technology Ranchi, India and started her career as a financial analyst (1995). In 2007 having moved to Dubai, she became a full time practicing artist. Debjani went on to obtain her MA in Fine Art from the Open College of the Arts, University for the Creative Arts, UK in 2016.
Her first solo exhibition 'Spindle, Shuttle, Needle' was held at Tashkeel Al Fahidi in 2011. My second solo 'Seeing the Invisible' in 2014 was hosted by the French Embassy in The Sultanate of Oman at Centre Franco Omanais, Muscat. Debjani has participated in more than 50 group shows notably 'Paper' (XVA Gallery, Dubai, 2013), 'Butterflies in My Stomach' (XVA Gallery, Dubai, 2014), 'Nectar in a Sieve' (Gallery Sarah, Muscat, 2015), 'Games People Play' (First Triannual Print Show, Museum of CAA, Hang Zhou, China, 2015) and 'Booked' (Art Centrix Gallery, New Delhi, 2016).
Debjani has illustrated two children's books; 'World Tales' a book of folk tales written by the students of Dubai International Academy (2009) and 'A Magic Place' (Orient Longman, 2010), a book of short stories for middle school children in India.
Debjani Bhardwaj currently lives and works in Muscat, The Sultanate of Oman.
Debjani Bhardwaj exhibited 'Telling Tales' at Tashkeel, marking the culmination of her participation in the Critical Practice Programme 2017.
Opening Hours
Tashkeel Alserkal
Gallery, Unit 58, Alserkal Avenue
Sun-Thu 10am – 7pm, Fri 9am–12pm
(closed Saturdays & public holidays).
Makerspace, Unit 89, Alserkal Avenue
Sat-Thu 10am – 7pm
(closed Fridays & public holidays).


Tashkeel Al Fahidi
House 10, Al Fahidi
(members only)


Tashkeel Nad Al Sheba
Nad Al Sheba 1

Temporarily closed for renovation
How to find us