New experiments unveiled to mark Artist-in-Residence programme between twin cities of Dubai and Dundee
16 March 2020
This month, Tashkeel – the Dubai-based multidisciplinary art and design studio – celebrates the inventive practice of two artists who were part of a professional artist exchange programme in collaboration with Dundee Contemporary Arts in Scotland. 'Dundee / Dubai' presents the creative outcomes of two practitioners creating 7,860 kilometres apart, now united in one exhibition.
With the support of the British Council, Emirati artist Salama Nasib spent six weeks at Dundee Contemporary Arts in Scotland earlier this year strengthening her practice, building her professional network and seeking inspiration for a new body of work. In exchange, Mysterious Cube (aka Sarah Burt), began a 14-week residency Tashkeel in September to further her practice in fabric screen-printing and create a new body of work inspired by Dubai society and environment. During time spent in their host communities, Salama and Mysterious Cube led a range of talks and workshops enabling adults and young people to gain insight into their creative practices and learn about the other country's culture.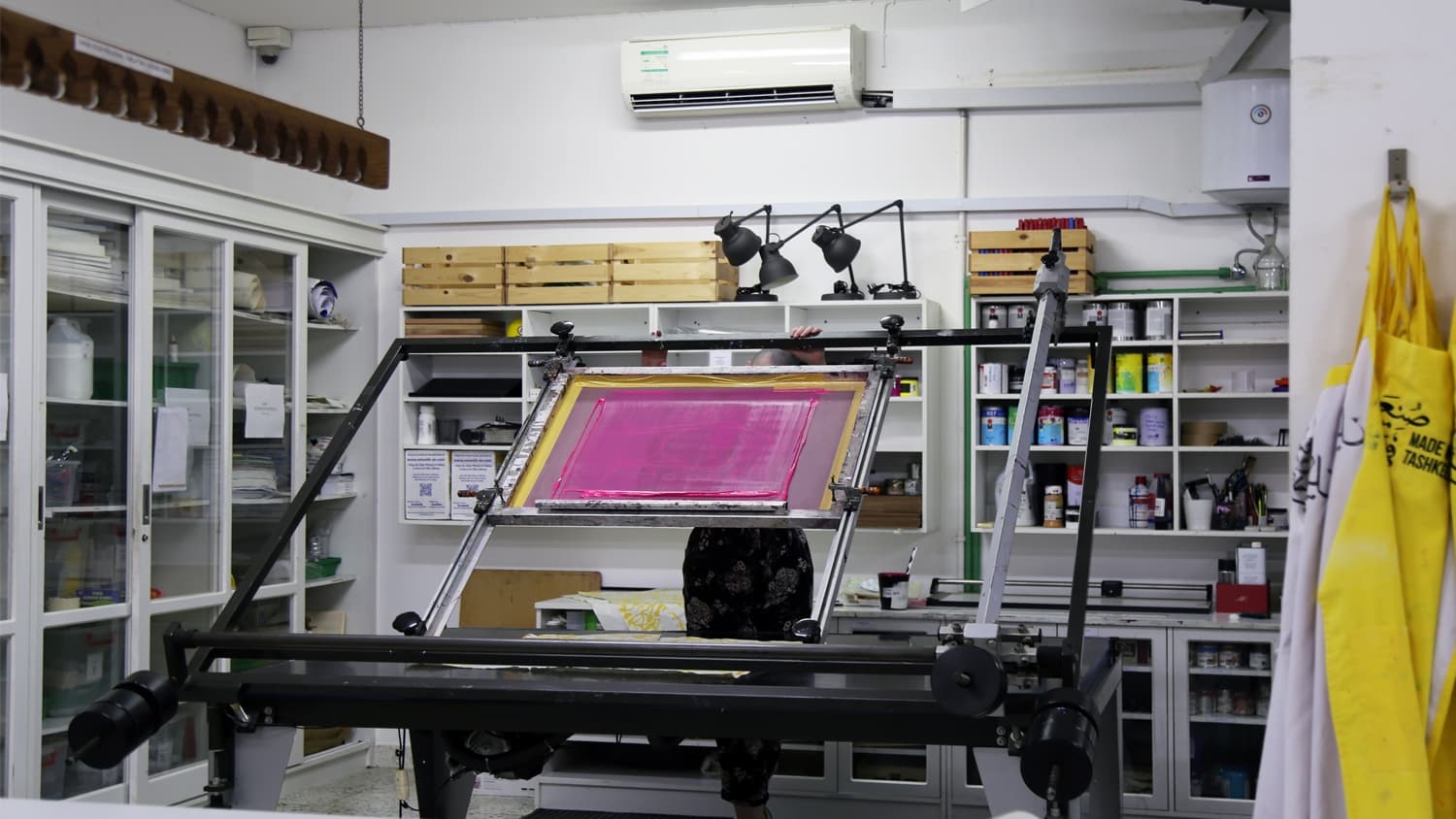 "Residencies offer time and space away from the artists' usual surroundings and obligations, allowing them to embark on journeys of personal growth and professional development," said Lisa Ball-Lechgar, the Deputy Director of Tashkeel. "Over the last eight years, Tashkeel has enabled more than 60 artists and designers from 21 countries to undertake residencies both in the UAE and overseas. We will to continue to build on this momentum – nurturing cross-cultural dialogue and understanding by providing opportunities to those who wish to push the boundaries of their practice."
UAE artist Salama Nasib holds an MA in Print from the Royal College of Art, London, and has exhibited at national and international venues, including Meem Gallery (Dubai), Emirates Palace (Abu Dhabi), Meridian International Centre (Washington DC), and Kunstquartier Bethanien (Berlin).
Compelled by the therapeutic and tactile aspects of printmaking, her body of work for the exhibition follows the direction of memory, examining concepts of nostalgia, deterioration and time travel. Speaking of the works created, Salama said, "I have done this through personal family photos of a house I seem to have neglected. What happened to the house I once called home? How did those scars appear on the walls, windows and paths? How many memories can I revive by just looking at those scars of a time that no longer exists?"
Many more questions emerged as she continued transferring her thoughts onto print using various techniques, including screen-printing, solar-plate printing and blind embossing.
"It's an ongoing conversation I have with my brain, allowing for the possibilities of connecting two different times and two different sentiments for richer, lasting experiences."
Mysterious Cube (aka Sarah Burt), who is an artist and printmaker based in Dundee, Scotland. The graduate of the Duncan of Jordanstone College of Art and Design has participated in international exhibitions in Europe and the US, primarily through a connection with the Dundee Print Collective and Print Festival, Scotland. Her painting and printmaking have a strong focus on character design, often inspired by different cultures' traditions and beliefs, and represent intangible things such as emotions and concepts. The work is often displayed in a way which raises questions about authorship and belief.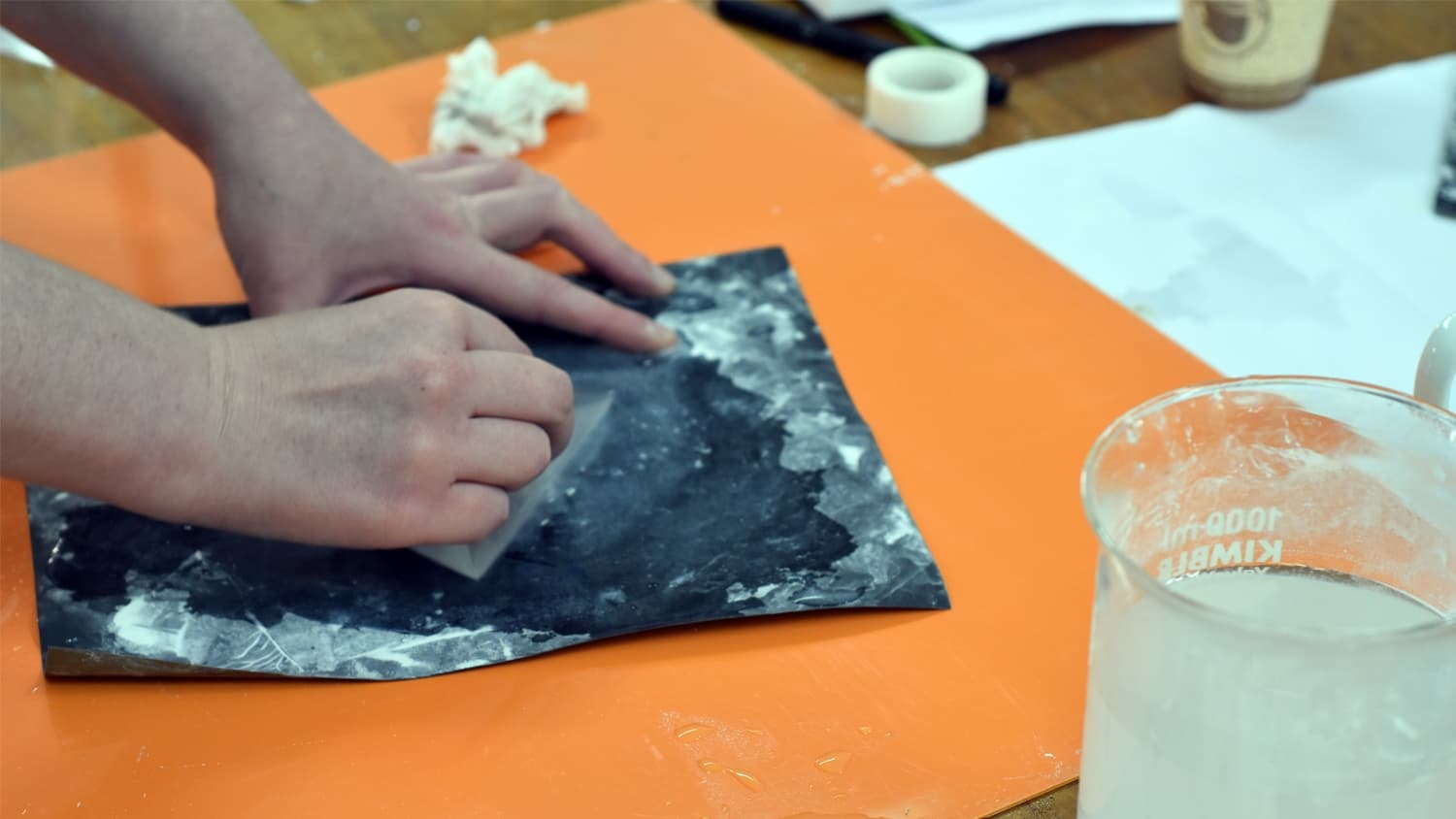 "For a while now, I have been exploring the idea of personifying things that I perceive to be external from me: things that I feel from a place, or a certain kind of emotion," said Mysterious Cube. "I had a very clear idea of what I wanted to do when I came to Tashkeel. The idea of resilience is something that I find in everything around me in the UAE -- dead insects, small objects and especially cats. I did a ton of research into cats and what they mean in different faiths, in symbolism. Two paintings are based on my research on different sun and moon deities, which have been important symbols for earth and human civilization."