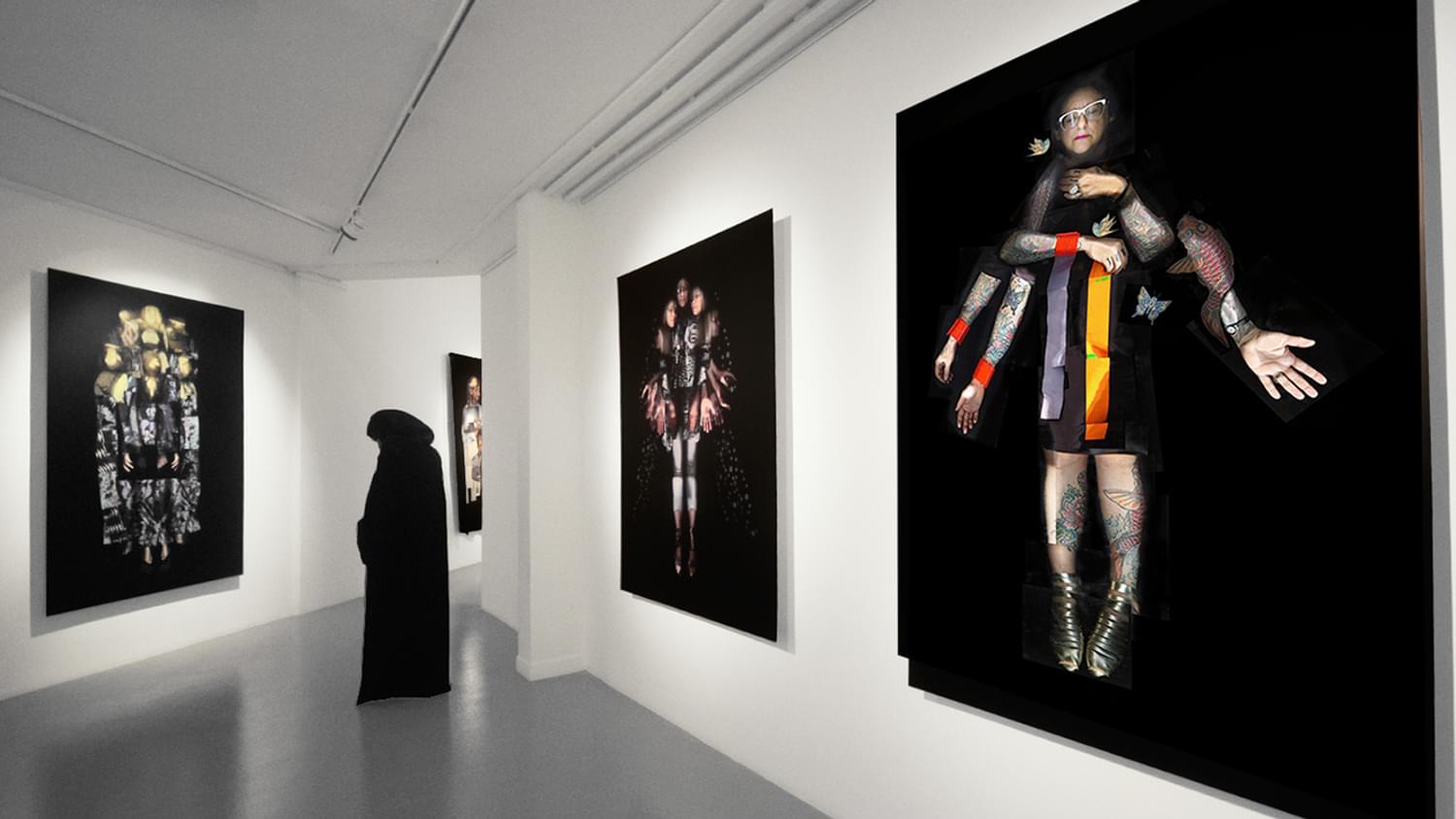 Tashkeel is pleased to present a solo show of new work by emerging Emirati artist Maitha Demithan. Recognised for her distinctive scanography portraits, Demithan has exhibited internationally, as well as in the UAE, and will be exhibiting at Tashkeel a new body of works that push the boundaries of her practice through experimental installations and new media pieces.
In her signature works, Demithan appropriates an A4 flatbed scanner to record the surface of figures and objects and then composes these multiple views to create her poetic, layered images. She considers this process a method of painting with light and relishes the elements of time and control required by the painstaking practice of digital scanning. The layers of construction and deconstruction as the work deepens and develops are a contrast to our prevailing Instagram culture. Since developing this technique, Demithan has built up her own lexicon of dream-like imagery - her graceful, floating figures, often with eyes closed, appearing to defy gravity. The subject's handsome clothing often serves a ceremonial function in the space of fantasy she creates. The viewer is free to project their own memories and literary associations onto Demithan's exuberant images, which resist any one reductive reading.
Choosing her subjects from family and friends close to her, Demithan's scanographies use light to document intense moments of encounter with the subject, capturing the three-dimensional in a series of two-dimensional planes. Demithan is a restless experimenter and for this exhibition she has developed her scan technique in new directions and is presenting projections, installation, video, and transfers onto cloth for the first time, incorporating the texture and physicality of the surface into the work.
In the new series presented here, birds and garments, long part of Demithan's visual vocabulary, take centre stage. The artist is fascinated by birds and they have appeared in her previous work as companions to her human subjects. In her new work, she defamiliarises the appearance of a young falcon, a traditional hunting animal in the Emirates, through close examination. With a video camera she hugs the contours of its body, in a continuation of the scanning process. The texture of its feathers, leather hood, scaly feet, and the meat it consumes become alien: unrecognisable and abstract.
Demithan takes inspiration from traditional Emirati culture which she records in startling fashion. She will present a series of portraits and a series of 'portraits' of garments. These items of clothing stand in for the absent body, like religious relics, their powerful aura is emphasised by her light-filled technique. The garments include her cousins' childhood dresses from the 1980s - ghost-like and elegiac, separated from the owners' past selves, the dresses carry memories, and traces of personal and cultural history of a time of change in Dubai's past. Perhaps the most emotionally charged item Demithan works with is the burga, which her mother wears every day, and which her daughter transforms into a motif for a technically complex work.
Demithan will exhibit the culmination of her research with, and beyond, scanography, including works with projection and solarisation, and portraits synthesising a palimpsest of multiple views. Her performative portrait works suggest there is no one true identity but a multitude existing simultaneously, as the process of their construction is left visible. She captures a subject's personality and appearance, whilst acknowledging the impossibility of ever truly representing them.
The exhibition is curated by Dr Alexandra MacGilp.
About Maitha Demithan
Maitha Demithan is an artist based in Dubai. Her first drawings were sketched in the sand, which formed an appreciation for colour, texture, line and shadow.