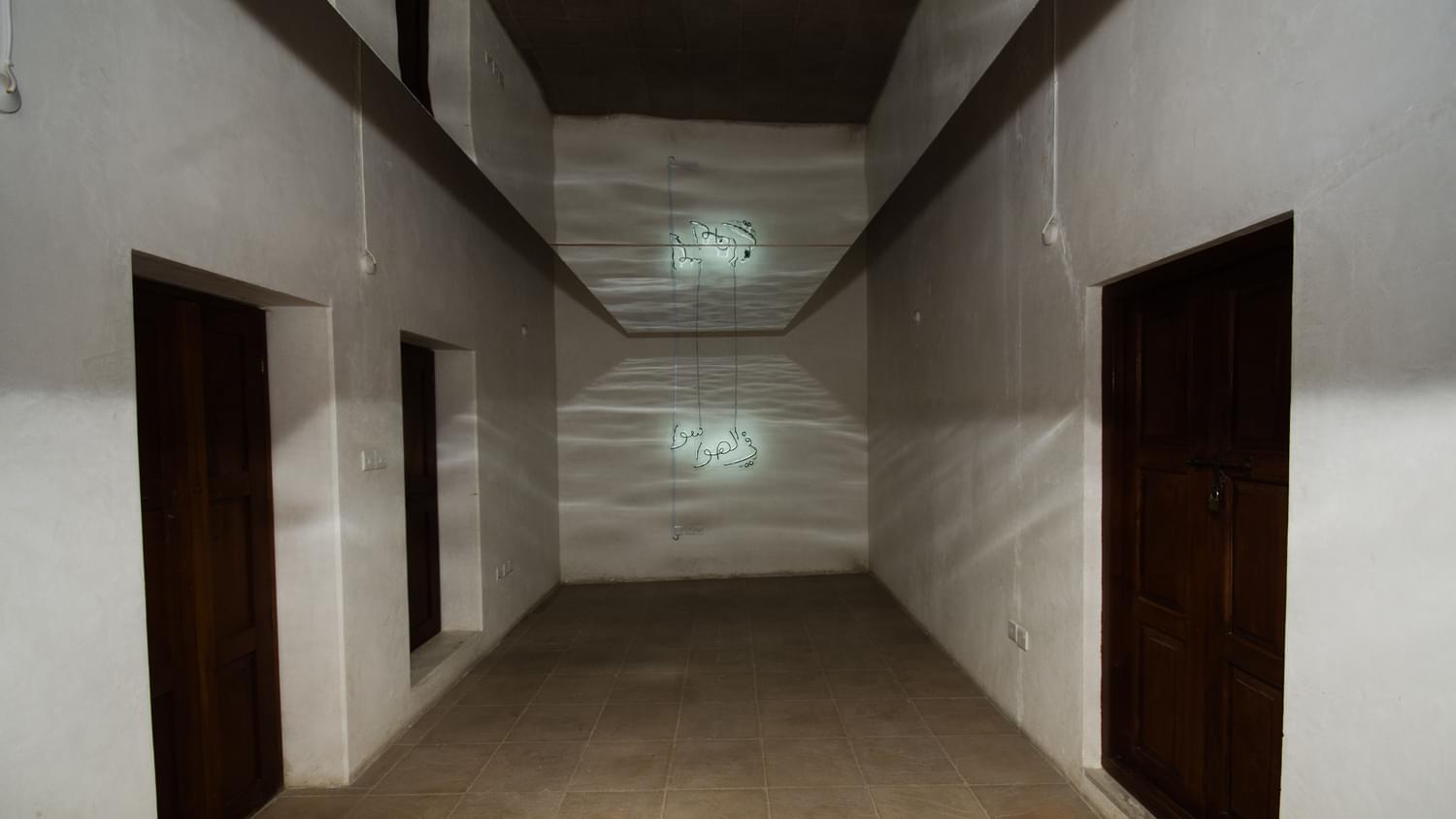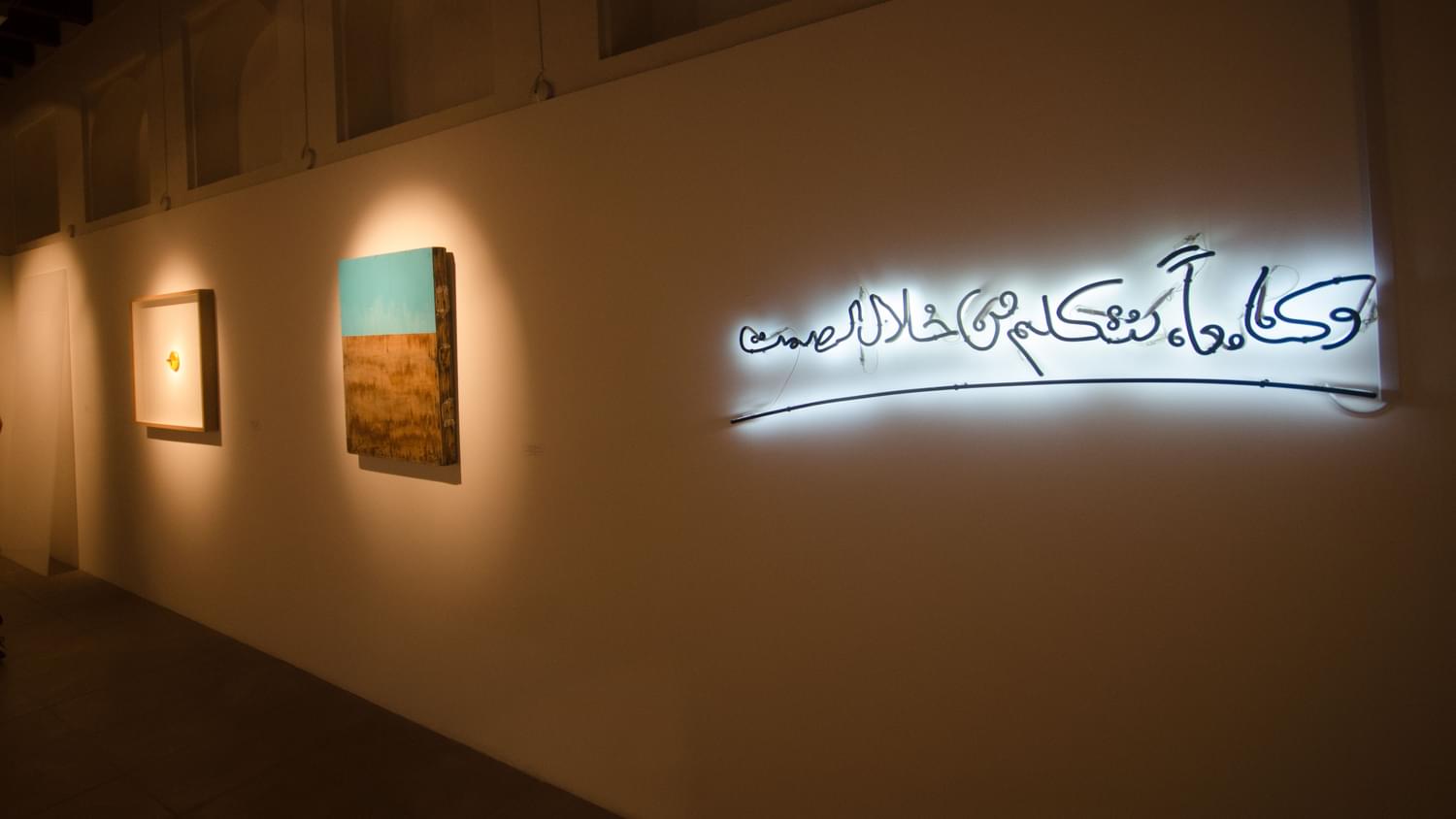 CollaCurating is a project initiated by Areej Kaoud in which curating as an art practice is articulated via collaboration between artists. The first in the proposed series of collaborations or conversations in which Kaoud places her work tête-à-tête with that of established artists, Sculptural Perspectives, draws on the sustained dialogue over the last few years between Kaoud and Manal AlDowayan. For this exhibition, Kaoud uses two of AlDowayan's artworks as points of origination in order for a physical dialogue to occur between the works. Simultaneously, each piece attempts to playfully alter the viewer's perception in order for that dialogue to be revealed.
Initiated as an exploration into how perspective may be susceptible to transformation, CollaCurating: Sculptural Perspectives places Kaoud's sculptural pieces as malleable structures, innate with meaning, surrounding AlDowayan's neon-lit words. Both conceptual artists stretch or distort imagined perspectives by verifying limits, thus giving a tangible quality to the dialogue between the works. Interpretations become perceptual fields for the viewer to generate discoveries through created imaginaries and connotations. Through ready-mades, painting, poetry and light, this exhibition intervenes with the viewer's capacity to observe the dialogue between two artists' works.
Gallery 1 contains one artwork by each artist, displaying an object-oriented relationship with literacy. The juxtaposition of AlDowayan's neon work Suspended Together with Kaoud's installation also titled Suspended Together intends to tangle meaning with matter. Placing both artworks in one space introduces an interplay between visual and physical interpretations, allowing for the viewer to interpret AlDowayan's phrases as the objects they are, neon bulbs shaped into the form of language, while Kaoud's installations and sculptures are presented as objects imbued with meaning.
In Gallery 2, Kaoud's works, This Is Not The Horizon, This Is Not A Sunset, This Is Unable To Receive Your Voice, The Jar-Plinth Conversation, Here, A Light Of You and Here, A Shadow Of You, are displayed as sculptural responses to AlDowayan's neon phrase saying We Were Together Speaking Through Silence. These lit words become encircled by Kaoud's sculptural pieces as if attempting to reflect upon the words via sculpture. Inspired by Marcel Duchamp and Rene Magritte, most of Kaoud's pieces are taken from her project Potential Denied where ready-mades and found objects are altered through placement and the medium of painting in order to give them potential to be something they are definitely not. A direct denial of their potential takes place in their titles, keeping the viewer's perception at bay with the real object. It is through AlDowayan's piece that the power of perception is brought back to the audience, revealing that Kaoud's pieces are both responding to AlDowayan's works but also attempting to interact with and enhance the viewer's susceptibility to meaning.
Three of Kaoud's sculptures in this exhibition are ready-made, reflective and transparent pieces, curated in such a way as to reflect AlDowayan's artworks, allowing for the works to have a brief material contact. All artworks are intended to be experienced both separately or collectively, placing the viewer in the determining position, asking them to reinterpret and engage with the variable, possible perspectives, expanding and then reducing them back to shape. The titles in Kaoud's work play a crucial role in the viewer's experience, a reduction of perspective occurs through the suggestion of a possibility, a horizon, a sunset, a microphone or a reflection, simultaneously confirmed and denied by the 'this is not' they are introduced with in each title. This triggers the viewer's imagination whilst pulling them back to a consciousness of the limitations of the materiality of the object itself.
The exhibition highlights collaboration as a process that can begin everyday in artists' studios, shedding light on otherwise hidden characteristics of collaboration, new approaches that can formulate simply by a rational reaction to looking at another artist's work.