Nasser & Mariam Al Zayani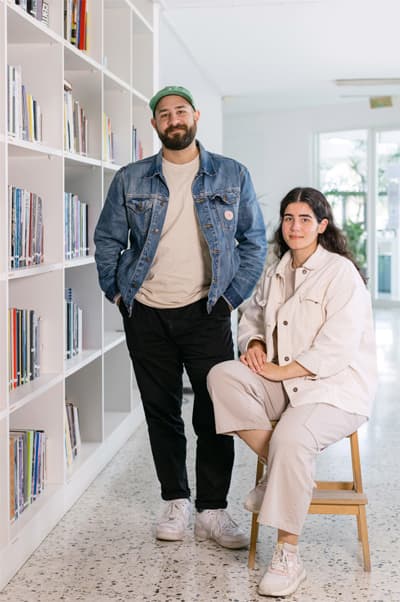 Nasser:
Nasser Alzayani is a Bahraini-American artist (b.1991, Manama, Bahrain) living and working in Abu Dhabi. Nasser's practice expresses a research-driven documentation of time and place through text and image, as well as found and cast objects. Incorporating themes of factual and fictional archaeology, his most recent work explores alternative narratives of collective experience.
Nasser's group exhibitions include Kissing Through A Curtain, MASS MoCA, North Adams, USA (2020); The Youth Takeover, Jameel Art Centre, Dubai, UAE (2020); Glass Triennial, Sol Koffler Gallery, Providence, USA (2019); _____scapes, Gelman Gallery, Providence, USA (2019); Bayn, Warehouse421, Abu Dhabi, UAE (2017); and Watering the distant, deserting the near, Al Riwaq, Bahrain (2016). Nasser is a recipient of the Fundación Casa Wabi x ArtReview Residency (2017), the Villa Lena Foundation Residency (2018), and is a current artist in residence at the Cultural Foundation in Abu Dhabi (2021).
He has an MFA in Glass from the Rhode Island School of Design (2019) and a BArch from American University of Sharjah (2015).
Nasser's interest in archaeology questions the core principle of his practice, that of telling stories. There is an element of coincidence in every nd, one that elevates an everyday object to a vessel of information for both the individual (excavator) and the collective (audience). Through research into his personal memories and resonances, Nasser attempts to bridge a gap between the experience of an object, a text, an image or a sound into a more intimate reading of fragments in time. His installations display traces of information that can be pieced together to tell those stories.
Mariam:
Mariam AlZayani is a Bahraini-American designer and artist (b.1996, Manama, Bahrain) living and working in Dubai. She is a Senior Graphic Designer at Fikra Design Studio. Mariam is currently a part of the 8th cohort in The Salama Bint Hamdan Emerging Artist Fellowship. Her group exhibitions include Sikka Art Fair (2018, 2019); The Youth Takeover, Jameel Arts Centre (2019, 2020); Fikra's Graphic Design Biennial (2018); and will be featured as part of Corniche (2021).
Mariam is fascinated by the 'what if's' of design and the potential for design to manifest into different and evolving ways, and it is no different in her art practice. In turn, the majority of Mariam's work is rooted in strong concepts and asking questions, as she constantly draws inspiration from her surroundings and interests. Oftentimes, the results can be idiosyncratic, cycling through a process of metamorphosis, and that's where it becomes fun.
Opening Hours
Tashkeel Alserkal
Gallery, Unit 26, FN Designs, Alserkal Avenue
Sun-Thu 10am – 7pm, Fri 9am–12pm
(closed Saturdays & public holidays).
Makerspace, Unit 89, Alserkal Avenue
Sat-Thu 10am – 7pm
(closed Fridays & public holidays).


Tashkeel Al Fahidi
House 10, Al Fahidi
(members only)


Tashkeel Nad Al Sheba
Nad Al Sheba 1

Temporarily closed for renovation
How to find us