Elle Ford
Home Country:

Netherlands

Disciplines:

Mixed Media, Painting, Photography, Sculpture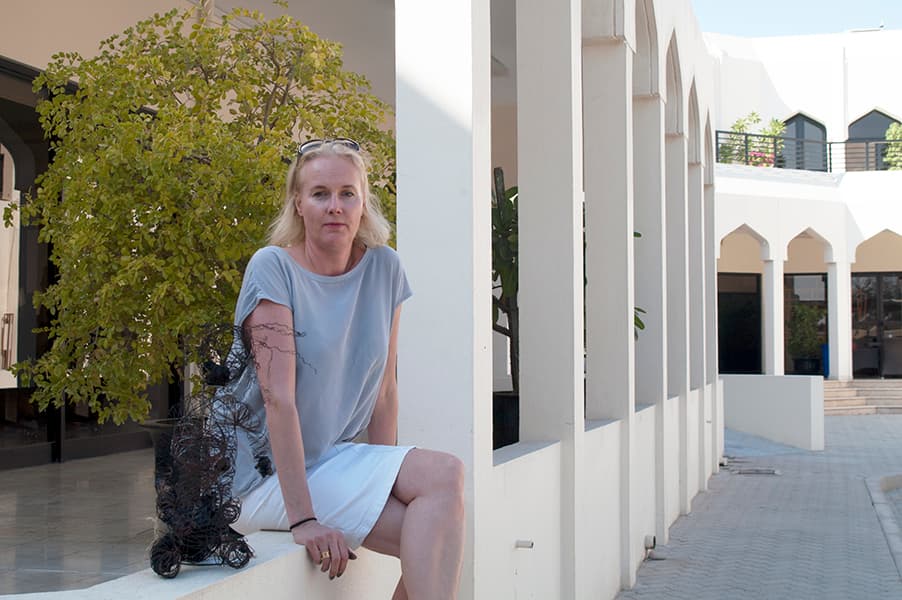 Elle is a Fine Artist with a First Class honours degree from The University of Southampton, UK. Her work has been selected to be exhibited at The Royal West of England Academy, and has been showcased and sold in the UK and The Netherlands to private and corporate clients. Before relocating to Dubai in 2014, she was a resident at Chapel Arts Studios, Andover, UK.
Elle works across disciplines, encompassing a range of media including paint, photography, video, sculpture and installation. Her work is about identifying, capturing, revealing and making transparent the elements of experience, influence and interconnections in the creative journey. Elle's inspiration is drawn from lifecycles and how all things are linked and interconnected. The elements of tension are created through entropy and exaggerated through use of fragile forms. A measure of disorder exists in her work in the form of deterioration and decomposition. Materials have undergone some degree of transformation or dramatic change in appearance.
A current theme in her work is Carbonisation. Carbonisation results in a transformation of an object to "become" a carbonized facsimile of the original "being" and yet simultaneously challenges the spectator with properties that transcend the captured images outside previous physical experience. This perspective makes you explore life and death and its vulnerability.
Personal History
Elle was born in Holland, and has a background in interior design and has spent over 20 years living in extremes of climate and culture from the deserts of the Middle-East to the arctic of Far Eastern Russia. This has provided her with many ideas and inspirations to further develop her creative identity.
Commissions:
The Ark Conference Centre, Basingstoke, UK
FZ Organic Foods, Wolvega, The Netherlands
Exhibitions:
2015

Summer Exhibition, Galerie van Harinxma, The Netherlands

Spring Exhibition, Galerie van Harinxma, The Netherlands

2014

Open Studios, Chapel Arts Studios Andover

Winter Exhibition, Galerie van Harinxma, The Netherlands

The Carroll Art Exhibition, Link Gallery, University of Winchester

Spring Exhibition, Galerie van Harinxma, The Netherlands

161st RWA Autumn Exhibition, RWA The Royal West of England Academy

2013

Re:alms, 10 Days Exhibition, St. Cross Hospital, Winchester

Surface, The Ark Conference Centre, Basingstoke

Autumn Exhibition, Galerie van Harinxma, The Netherlands

Open Studios, Chapel Arts Studios Andover

Drawn Exhibition, RWA The Royal West of England Academy

Commissioned for Galerie van Harinxma, Spring Exhibition, The Netherlands

2012

160th Autumn Exhibition, RWA The Royal West of England Academy

Remains, Solo Exhibition, Chapel Arts Studios Andover

Galerie van Harinxma, Autumn Exhibition, The Netherlands

2011

Seize, Bargehouse, OXO Tower Wharf, London

International Women's Day Exhibition, Southampton University, Hampshire

Make/Shift, Winchester School of Art, Hampshire

Tension, Solo Exhibition, Winchester School of Art, Hampshire
Education:
2014

Red Hot Press Screen printing Course

Red Hot Press Printmaking Course (Etching, Drypoint, Collagraph & Carborundum Printing

2013

Art Awards Adviser (Discovery and Explore)

RWA Artist Network member

2008-2011

First Class BA (Hons) Fine Art - (Interdisciplinary), Winchester School of Art, University of Southampton

2000-2003

Leidse Onderwijsinstellingen, The Netherlands, Interior Architecture
Opening Hours
Tashkeel Alserkal Gallery
Sunday - Thursday: 10 am - 4 pm
Friday & Saturday: Closed
Tashkeel Nad Al Sheba
Temporarily closed for renovation
How to find us