Saif Mhaisen
Home Country:

United Arab Emirates

Lives and Works:

Dubai, Abu Dhabi

Disciplines:

Drawing, Painting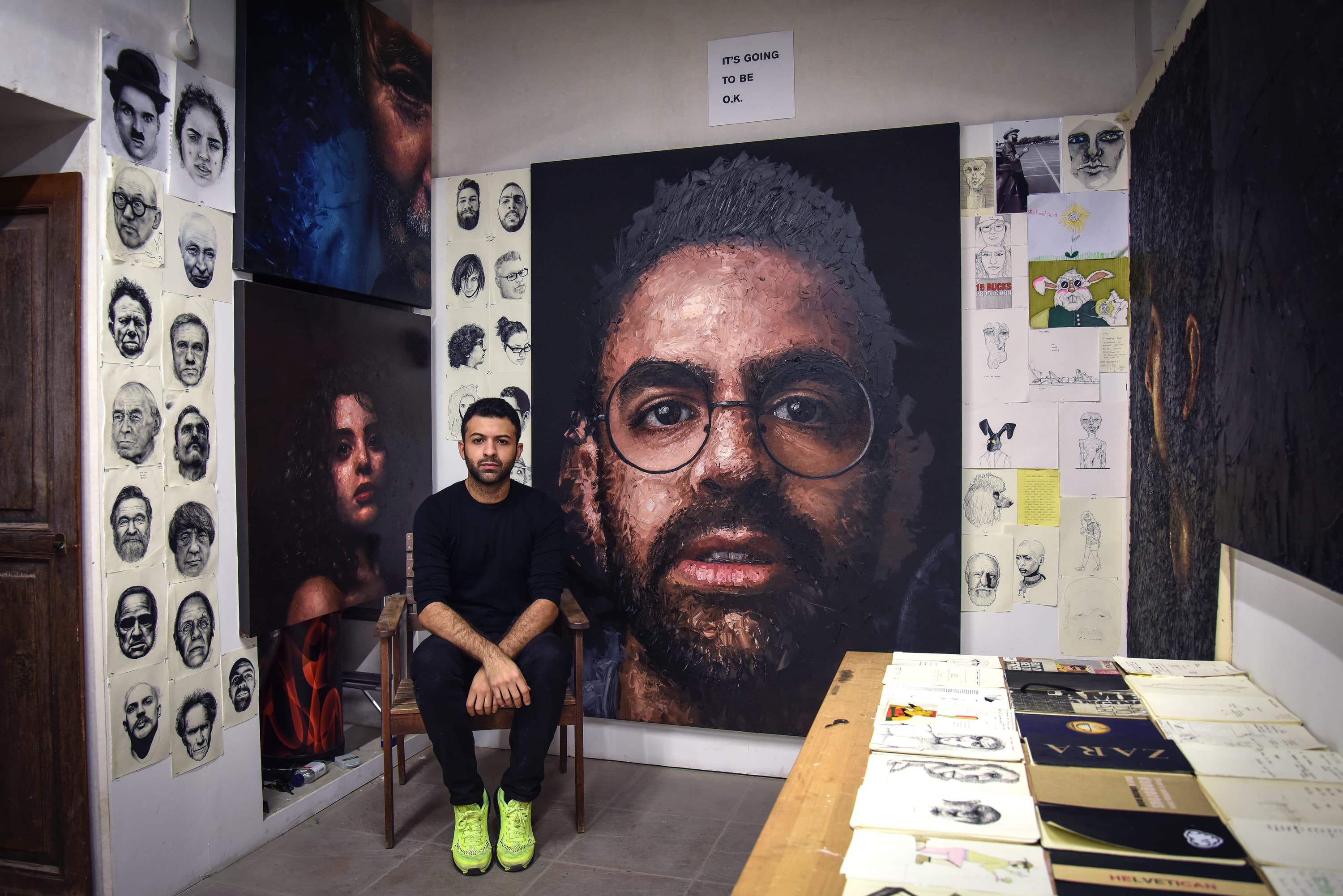 Born in Dubai, Saif Mhaisen attended the American University of Sharjah to complete his Bachelor of Architecture in 2014. While studying, he developed an interest in two-dimensional work that expressed a haptic, human engagement of its author. After coming across an elective titled "Introduction to Painting", he saw his interests materialize even further. Having found his passion, Mhaisen changed his focus to painting and drawing, and has since been engaged in his art practice between Dubai and Abu Dhabi, UAE.
Mhaisen's interest in the history of painting started with the stark, theatrical contrast of the Baroque era. It continued through the Western development of portraiture with the likes of Chuck Close and Lucian Freud. Mhaisen became fascinated with portraiture, and its ability to convey identity. He found an interest in a subject's identity by viewing a finished painting, and a great sense of an artist's identity by examining his/her process -- be it systematic and technical, or one based on direct and personal human observation.
Mhaisen's paintings intend to communicate an uninhibited human presence. His work involves an obsessive pursuit of specific detail. To achieve specificity, Mhaisen first photographs subjects, carefully controlling light, hue, value, and color. He then prints a photograph as a one-to-one scale reference for a painting, and dissects the print into fragments to inform the painting one piece at a time. His current work involves large-scale palette-knife oil paintings that aim to bridge the skilled, human presence involved in mark making, with an uncompromising, realistic depiction of individuals.
In 2012, Mhaisen received first place in the Fine Arts category of the Sheikha Manal Young Artist Award. In 2014, he was selected as one of twelve members of the Salama bint Hamdan Emerging Artists Fellowship (SEAF), a year-long, fully funded studio practice and scholarship program based in Abu Dhabi (in partnership with the Rhode Island School of Design). Mhaisen has exhibited his work at Art Dubai, the Sikka Art Fair, DUCTAC, Pro Art Gallery, and Warehouse 421.
Opening Hours
Tashkeel Alserkal Gallery
Sunday - Thursday: 10 am - 4 pm
Friday & Saturday: Closed
Tashkeel Nad Al Sheba
Temporarily closed for renovation
How to find us