Nada Abu Shaqra
Disciplines:

Interior Design, Product/Furniture Design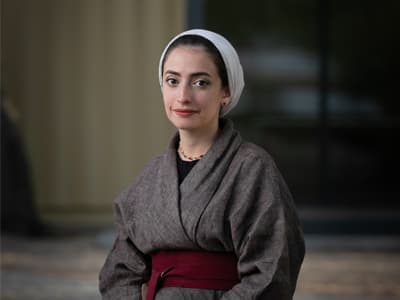 Freelance architect and interior designer, Nada Abu Shaqra is a graduate of the American University of Sharjah. She received the 2015 Architectural Research Centres Consortium (ARCC) King Student Medal for Excellence in Architectural + Environmental Design Research.
Winner of the 10/100/1000 stool competition, Nada has exhibited at Dubai Design Days 2014, Sikka Art Fair 2015 and 2019. In 2018, her art installation project 'For Abu Dhabi' was selected by the Department of Urban Planning and Municipalities – Abu Dhabi to be fabricated and assembled in different neighbourhoods around the capital.
Nada is interested in designing affordable products using sustainable materials that integrate ornamentation of historical architectural eras. Her research interest lies in the study of natural chemical reactions that take place in natural materials such as stone, rubber, metals and recycled paper.
Nada Abu Shaqra produced 'Hisn' as part of her participation in Tanween 2020.
Opening Hours
Tashkeel Alserkal
Gallery, Unit 58, Alserkal Avenue
Sun-Thu 10am – 7pm, Fri 9am–12pm
(closed Saturdays & public holidays).
Makerspace, Unit 89, Alserkal Avenue
Sat-Thu 10am – 7pm
(closed Fridays & public holidays).


Tashkeel Al Fahidi
House 10, Al Fahidi
(members only)


Tashkeel Nad Al Sheba
Nad Al Sheba 1

Temporarily closed for renovation
How to find us