Jamal Tayara Baroudy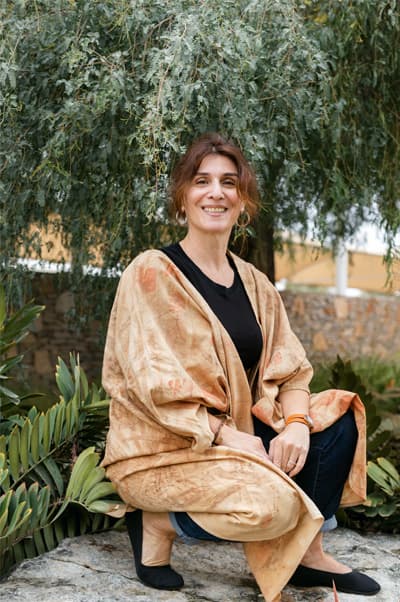 Jamal Tayara Baroudy is a multi-disciplinary artist, graphic designer and consultant. She established an independent branding studio jamjardesign in 2002 and Art Like This, an independent graphic and art studio in 2011, focusing on art and design projects and site-specific installations. Jamal's work has been featured in group exhibitions such as 'The New Beginning of Thinking is Geometric (Maraya Art Centre, 2013), 'Islamopolitan' (Maraya Art Centre, 2014), 'Play' (Tashkeel, 2019) and 'Made in Tashkeel' (Tashkeel (2021). She had her first solo show 'Garden After' at 1971 Design Space in 2015. Jamal is a Fine Arts and Graphic Design graduate of the Lebanese American University and undertook further studies at Sotheby's Institute of Art, London.
What started as a mindful walk across nature to help ground Jamal Tayara Baroudy's emotions became part of her practice.
The main concern of Jamal's artistic practice is the exploration of nature; she works much like a botanist, collecting and evaluating native plant specimens, photographing, scanning and layering with pencil and ink drawings, then interweaving a narrative that brings together the study of shapes found in nature and conceptual ideas. Her meditative drawings are dissected, deconstructed and undergo transformation, all of this to accumulate images that help process her emotions from childhood memories of an improbable garden.
This multidisciplinary approach to her art making, where Jamal layers her work with several different mediums, stems from an innate curiosity for learning and experimentation with that which is fleeting, but lasting.
Opening Hours
Tashkeel Alserkal Gallery
Sunday - Thursday: 10 am - 4 pm
Friday & Saturday: Closed
Tashkeel Nad Al Sheba
Temporarily closed for renovation
How to find us