Tashkeel's 'Recesses' explores the manifestation of time through the paradox of the fresco
١٥ أغسطس ٢٠٢٠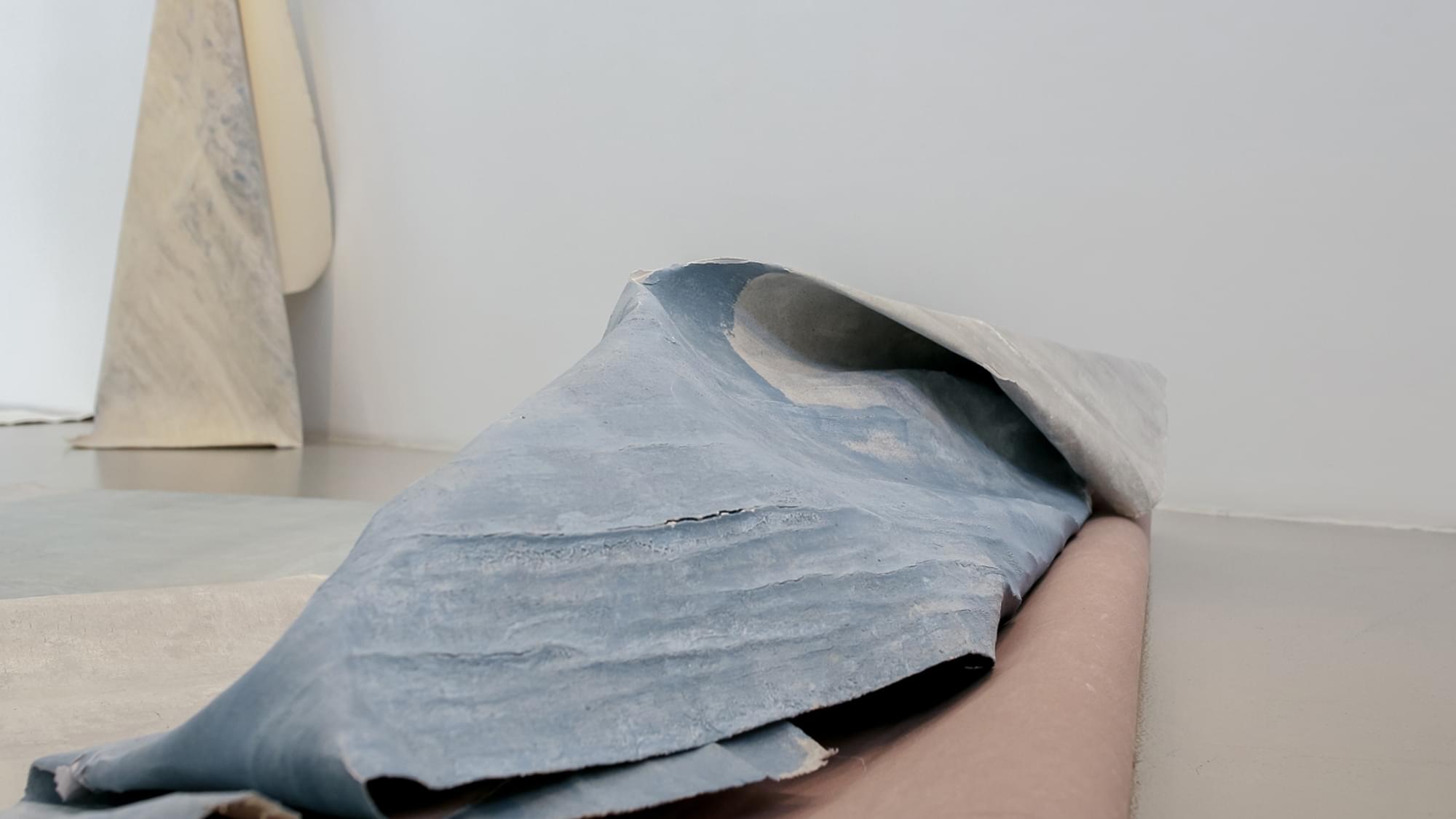 Tashkeel's Autumn 2020 season programme will kick off on 15 September with a solo exhibition by Chafa Ghaddar entitled 'Recesses'. The exhibition will shine a new light on the ancient mural-making technique of fresco by challenging the "wall" and the idea of completion.
'Recesses', which will run until 25 October, is a body of work resulting from a year of research and experimentation, which combines paper, painting, fresco and other media as a territory of skin, offering viewers an intimate and challenging experience of touch, colour, texture and material.
This is Ghaddar's first solo exhibition in the UAE, and the third and final public outcome of the 2018/2019 Tashkeel Critical Practice Programme (CPP) after Emirati photographer Jalal Bin Thaneya and Spanish artist Silvia Hernando Alvarez. It will be accompanied by a catalogue and public programme of workshops and talks.
"The Critical Practice Programme is designed to help UAE arts practitioners confront the primary principles of traditional techniques and challenge boundaries within their own practice that encourage curiosity and dialogue for the viewer," said Tashkeel's Deputy Director, Lisa Ball-Lechgar.
"Ghaddar's problematisation of the fresco technique in her work is informed by extensive research in this historical technique that she started studying in 2012 while in Florence, Italy. It was created with mentorship from arts writer Kevin Jones, and artist, critic and educator Jill Magi."
Exploring the traditional fresco techniques, Ghaddar said, "The 'giornata' – a day's work or the mark of how much painting can be done in a day – is usually concealed in standard fresco practice. Rather than a build-up that needs to be covered, I employ it as a finality, a permanent mark,"
"In Recesses, I explore the paradox of a medium that can be timeless and vulnerable at once. I combine it with other techniques, particularly to process the idea of trace and fragmentation of time and space."
She said that she wanted to contest the technique's historicity to suggest new boundaries and territories.
"I relate to the sensuality of its surfaces that encapsulate every gesture and every error. I see it as a living material, constantly subject to growth."
Ghaddar has been a member of Tashkeel since 2016 and previously exhibited at Tashkeel in the 'Made in Tashkeel 2018' group exhibition. She was the recipient of The Boghossian Foundation Prize for Painting in 2014, and is currently developing her first permanent and public art commission curated by Amanda Abi Khalil as part of A.I.R. Dubai Programme 2017 in collaboration with Art Dubai, Tashkeel and Dubai Culture & Arts Authority.
Tashkeel's Critical Practice Programme is a professional development programme for UAE arts practitioners. Launched in 2014, it is customised to each artist, taking into consideration their practice and research area. They are guided by the artist's chosen mentors to further their artistic endeavours and explore new territories that are presented in a public outcome. UAE-based contemporary visual artists that are part of the 2020/2021 edition include Mays Albaik, Hamdan Buti Al Shamsi, Hind Mezaina and Nora Zeid.
'Recesses' will run at the gallery in Tashkeel Nad Al Sheba 1, Dubai from 15 September to 25 October 2020. It opens from 10am to 10pm every day except Friday, and admission is free. For details, visit tashkeel.org, email [email protected] or call +971 4 336 3313.