Tashkeel continues its support of UAE design with world premiere of locally-made and inspired, limited-edition pieces at Dubai Design Week
٣٠ أكتوبر ٢٠٢٠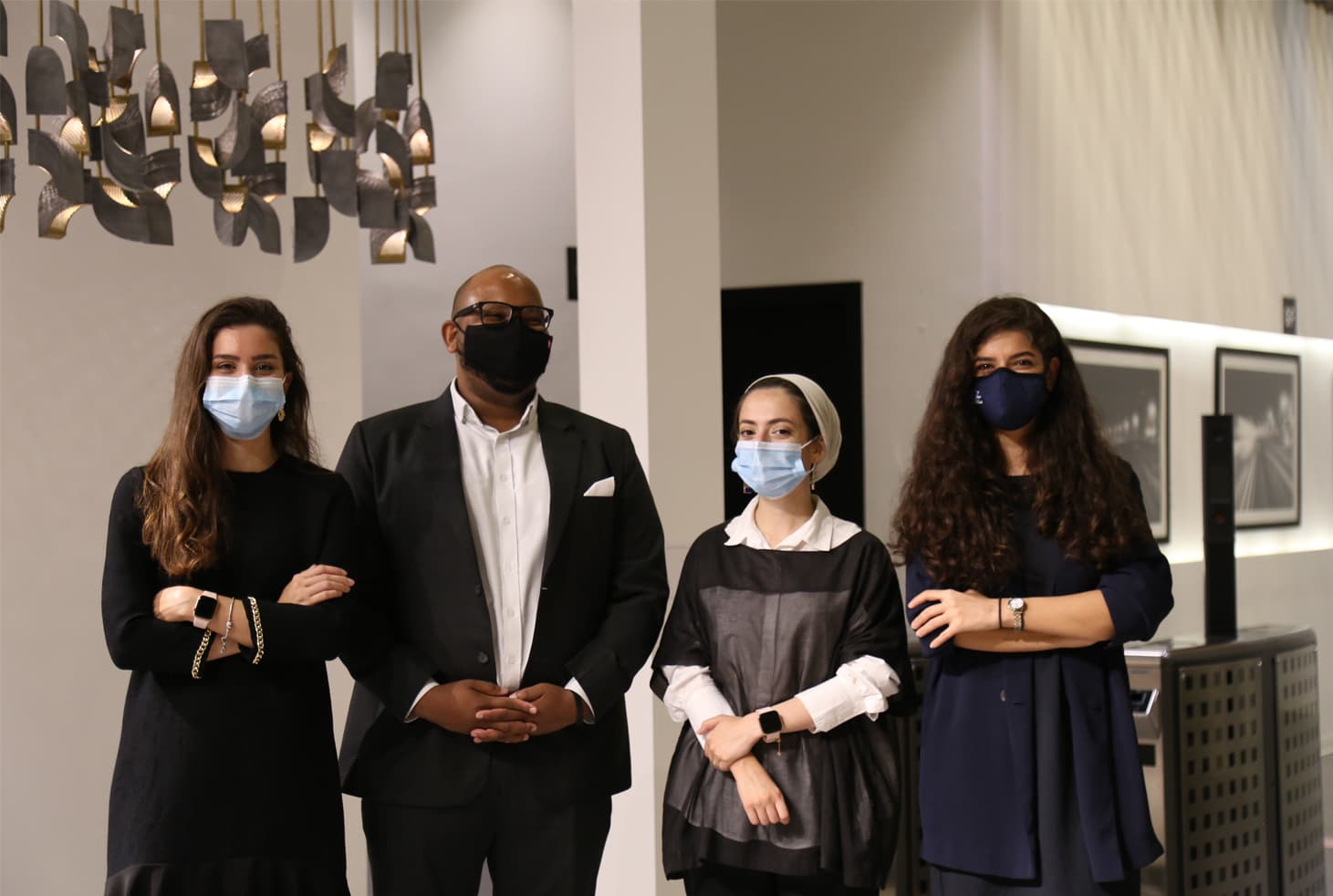 14 limited edition, contemporary furniture and lighting design pieces reflecting the UAE's rich heritage will be featured in the 'Tanween by Tashkeel' showcase at Dubai Design Week this year, including three new pieces conceived and produced by talented UAE-based emerging designers during the 2020 Tanween design programme at Tashkeel.

The Dubai-based organisation's annual Tanween design programme – which was developed to nurture emerging UAE-based designers towards creating products inspired by and designed and manufactured in the UAE – will debut three limited-edition pieces at Dubai Design Week's d3 Building Atrium #5 and Downtown Design Online from 9-14 November. The new furniture and lighting pieces have been designed by product designer Lina Ghalib, architect Neda Salmanpour and interior designer Nada Abu Shaqra as part of the rigorous 2020 edition of the programme.
Tashkeel will also be debuting a new collection of Tanween+ affordable products, a range of talks and workshops as part of the Dubai Design Week Masterclass, Maker Space and Downtown Design online programming this year.
"This year, designers were faced with an unprecedented challenge of not only sustaining their practice but shifting priorities and reimagining design to be more adaptive, resilient, conscious and utilitarian within physical limitations. Dubai Design Week visitors will get to experience how our 2020 Tanween design programme participants have embraced this opportunity to create problem-solving designs that innovatively weave traditional materials and techniques that are integral to UAE identity with their contemporary outlook," says Lisa-Ball Lechgar, the deputy director of Tashkeel. "We also have various avenues for enthusiasts who want to learn more about design, hone their skills and purchase some distinctive pieces made in the UAE during the fair at various locations in d3, Tashkeel in Nad Al Sheba and also online."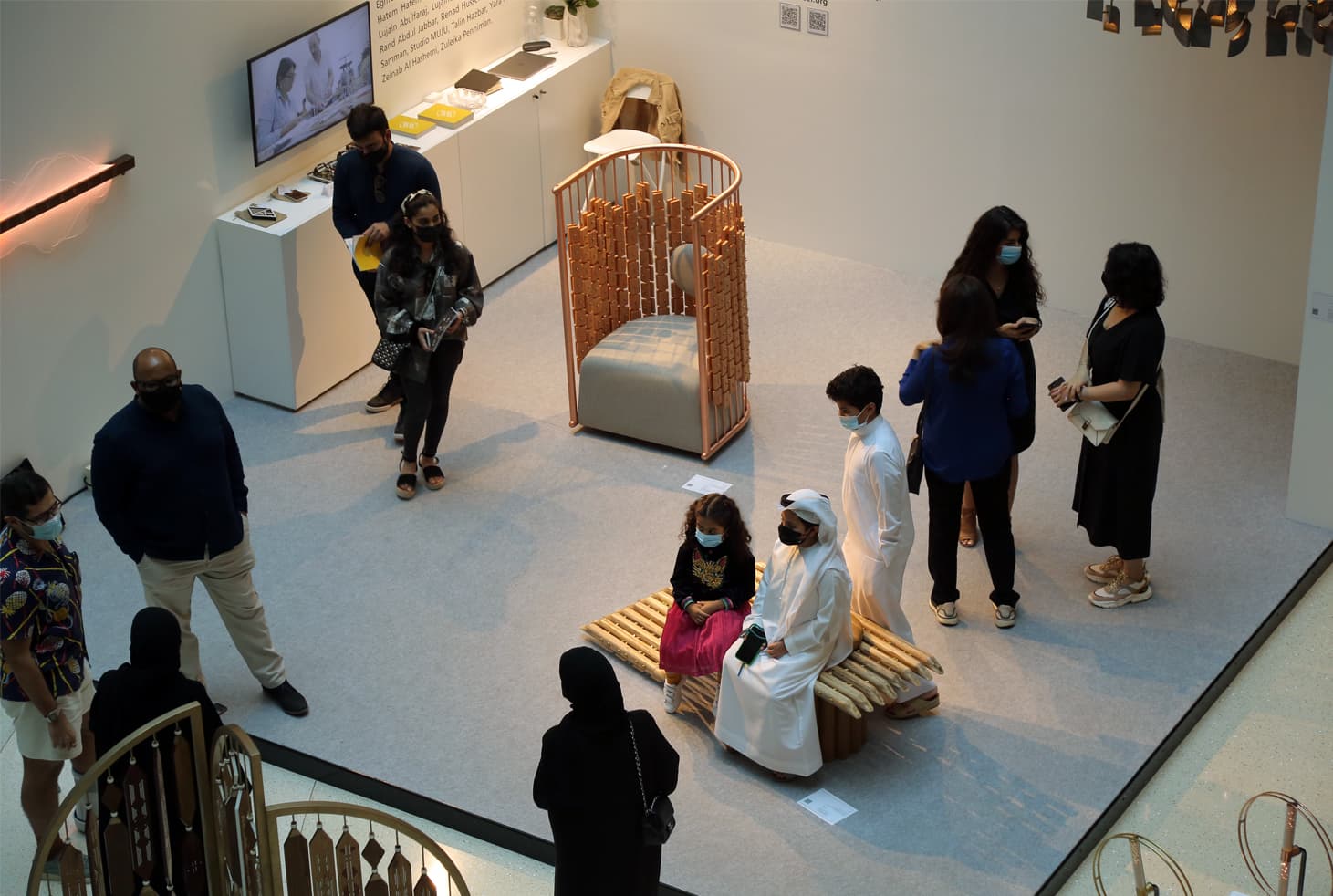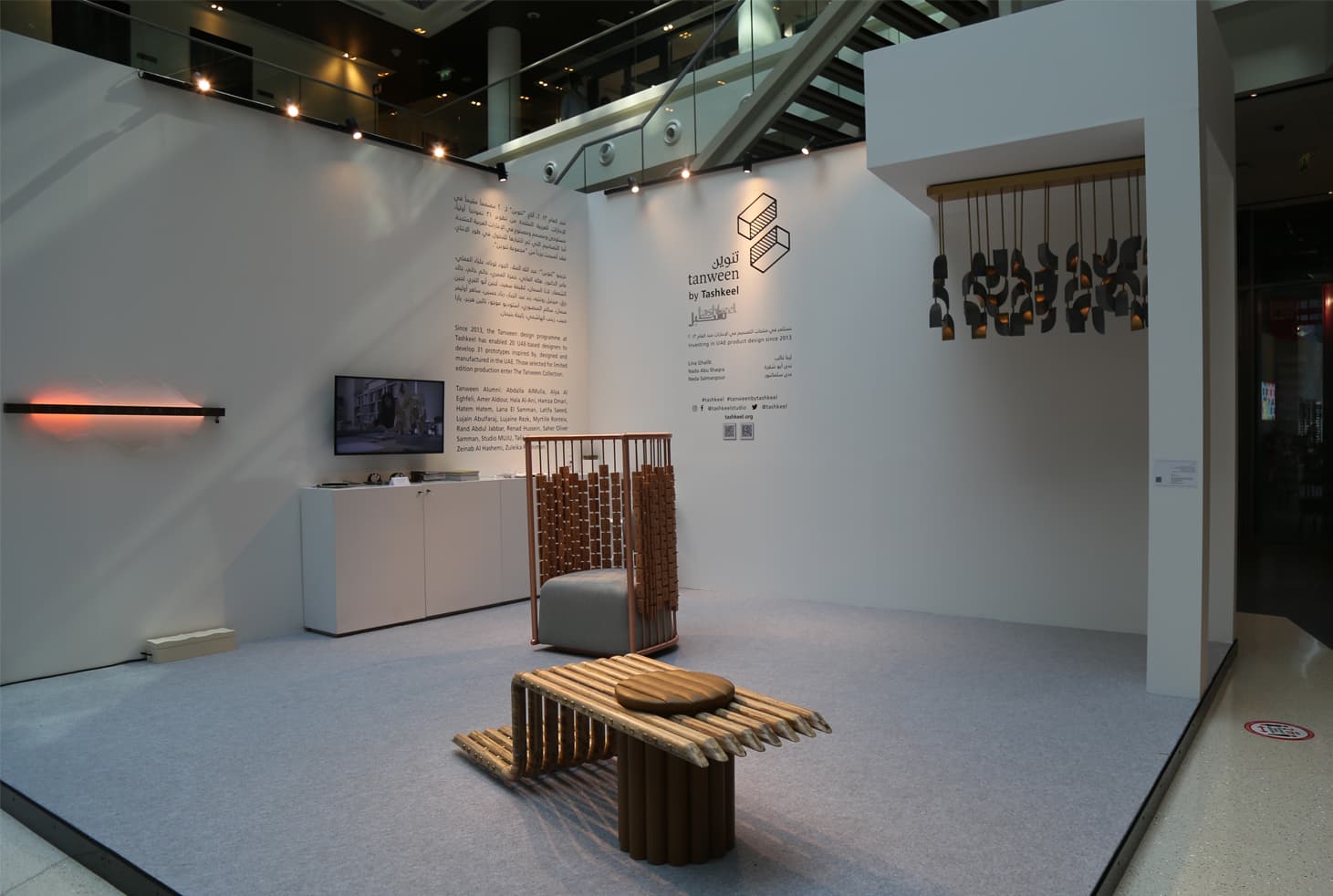 Tanween by Tashkeel
9-14 November from 10 am to 10 pm and 14 November from 10 am to 5 pm at the d3 Building Atrium #5. Also 9-14 November on Downtown Design Online.
Alongside furniture and lighting pieces from The Tanween Collection, the 'Tanween by Tashkeel' exhibition will present the worldwide debut of three pieces from the 2020 Tanween design programme.
Yereed by Lina Ghalib is an Arish bench-seat made of Plypalm, wood, stainless steel and leather, inspired by those who have survived and thrived in hostile environments by identifying a single natural element as source of life.
Hisn by Nada Abu Shaqra is a chair made of terracotta, powder-coated steel and upholstered fabric. The design is inspired by the UAE vernacular architecture and contextual materials, based on research into the dynamics of traditional form and the space they create.
Qaws by Neda Salmanpour is a suspended lighting fixture made of brass, 3D-printed PLA plastic with a concrete finish. The piece has been developed through analysis of existing design language embedded in the built environment and inherited objects around us.
In this edition of the programme, Tanween's scope morphed and expanded as it drew on the capacities and successes of its alumni. The cross-generational mentorship and exchange seen in the growing Tanween community are an organic articulation of the programme's essence of collaboration and dialogue. During Dubai Design Week, applications will be open for the 2021 Tanween design programme.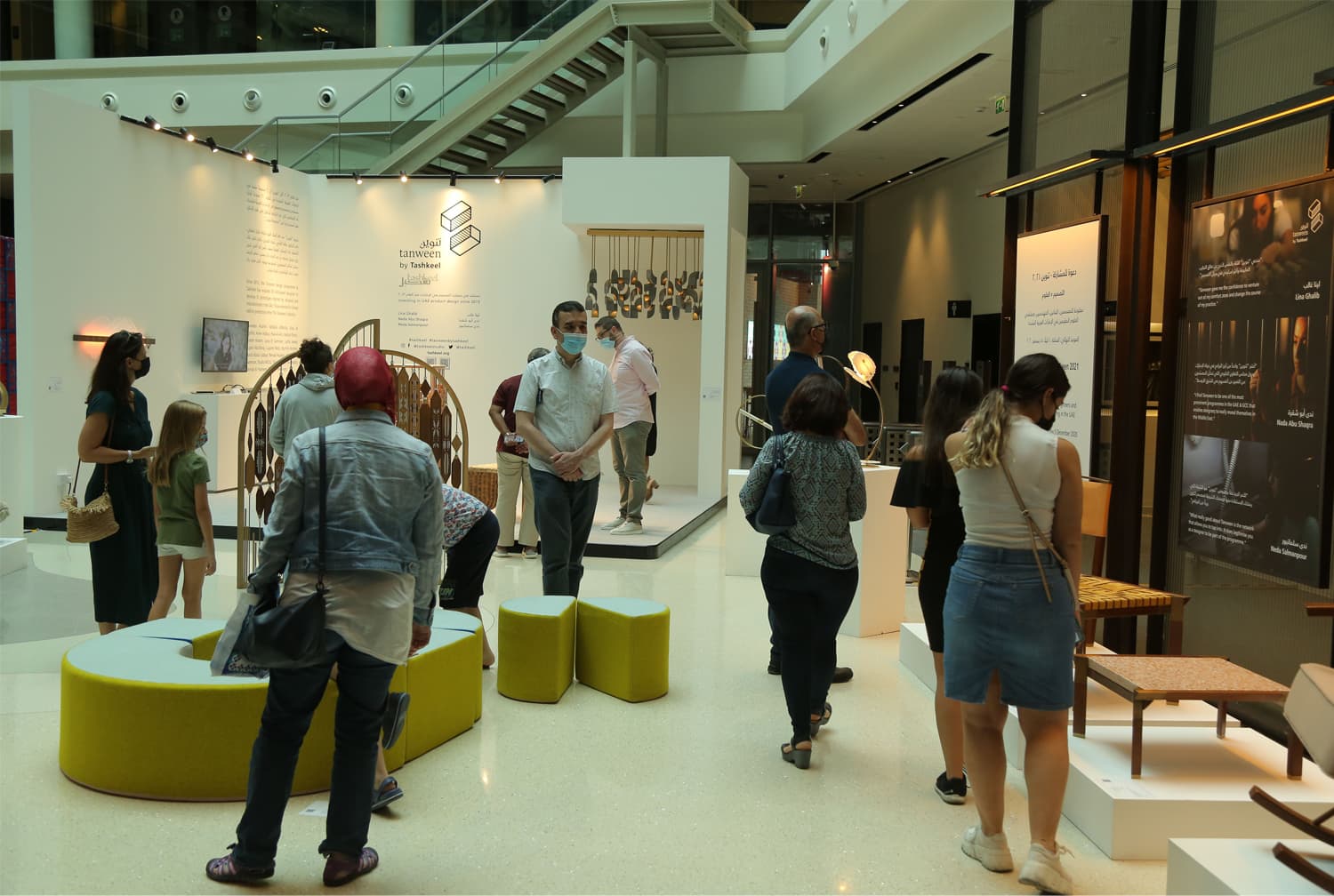 Tanween+ & Made in Tashkeel
Friday, 13 November from 10am to 10pm and Saturday 14 November from 10am to 5pm at Dubai Design Week Marketplace in d3
In addition to items from the Made in Tashkeel collection, Tashkeel will be selling a range of small, affordable, homeware products and accessories that capture the essence of the UAE under its brand Tanween+, developed by Tanween programme alumni, at Dubai Design Week's Marketplace and online at tashkeel.org/shop.
The Tashkeel stand at the Marketplace will reveal 3 new Tanween+ products:
Nested by Lana El Samman is a uniquely designed tray that is crafted with woven khoos and camel leather and celebrates traditional Emirati craftsmanship and its historical role in daily life.
The Mar'a Pocket Mirror and Mar'a Wall Mounted Mirror by Yara Habib pays homage to the remarkable aesthetics of Al Sadu weaving. The pocket mirror combines wood, thread and metal using hand and machine-made techniques, while the wall mirror blends multiple materials and different techniques of wood layering and textile weaving, both a tribute to the Emirati weavers and the UAE's preservation of culture and drive for innovation.
Tashkeel Activities at Dubai Design Week
Creative and Cultural Industries: What Does it All Mean?
DXBDW Masterclass Programme

The term 'creative and cultural industries' has gained momentum since it was first coined back in the 1990s in a bid to measure the economic and social impact and spread deeper understanding about the multiple sectors of arts, culture and creativity that make up to a country's creative economy. But what does it really mean? How have countries across the world adopted it? And why does it matter for the UAE? Followed by a lively Q&A session. The session is led by Lisa Ball-Lechgar, Deputy Director of Tashkeel.
Introduction to the Tanween Design Programme 2021
DXBDW Masterclass Programme

The Masterclass will explore Tanween's history and the unique training model behind this one-year fully funded professional development scheme for emerging product designers. Contextualised with alumni case studies, this is an ideal session for those who wish to apply for the 2021 edition of the Tanween design programme. Suitable for emerging design professionals seeking to grow their skills and embrace experimentation. The session will be led by Salim Ahmed, Design Project Coordinator at Tashkeel and Lisa Ball-Lechgar, Deputy Director of Tashkeel.
Making with Laser-Cut Wood - A Workshop for Adults by Tashkeel
DDW Maker Space Programme

Join this live 90-minute free workshop led by Salim Ahmed from Tashkeel to assemble a lamp using pre-cut wooden components made on the Tashkeel Laser Cutter and a simple lighting element. Customise your creation using a selection of paints. Suitable for adults with basic proficiency in product design and making. Limited to 10 participants. Book your place at https://tashkeel.org/workshops
Laser-Cut Cardboard - A Youth and Family Workshop by Tashkeel
DXBDW Maker Space Programme

Get a taste for design construction in this live 90-minute free workshop to assemble a vase using pre-cut cardboard components made on the Tashkeel Laser Cutter. Customise your creation using a selection of marker pens. Suitable for 13–16 years olds. Children aged 8–12 years must be accompanied by an adult. Limited to 10 participants. Book your place at https://tashkeel.org/workshops

Tashkeel at Dubai Design Week Marketplace
d3 outdoor
A range of affordable products by UAE-based artists and designers, commissioned by Tashkeel go on sale.