Riso Calligraphy
Ended - Thursday
17 November 2022
Artist, illustrator and calligrapher, Ibraheem Khamayseh studied Graphic Design at Al Najah University. A master of notable Arabic fonts such as Al Wissam, Al Ruqa'a, Al Thuluth and many more, Ibraheem is the author of Khamayseh Font, a reinterpretation of Naskh. His work has been featured in 'Hundred Best Arabic Posters' (2018), 'Delusions & Errors' (Dubai Design Week, 2017; Weltformat Festival, Switzerland, 2018); 'Best 100 Arabic Posters' (Warehouse 421 & German University of Cairo, 2018); and 'Made in Tashkeel' (Tashkeel, 2019 & 2022). Tashkeel's Senior Graphic Designer since 2016, his illustrative and graphic work can be found on various Made in Tashkeel items, a range of affordable products designed by UAE creatives. Ibraheem receives commissions and is a teaching artist, delivering workshops for children, young people, and adults.

Schedule:
Date: 17 November 2022
Time: 5 - 8 pm
Capacity:
14 spaces left
Location:
Tashkeel Nad Al Sheba
Fees:
AED 304.76 (+VAT)
Please note that fees are non-refundable.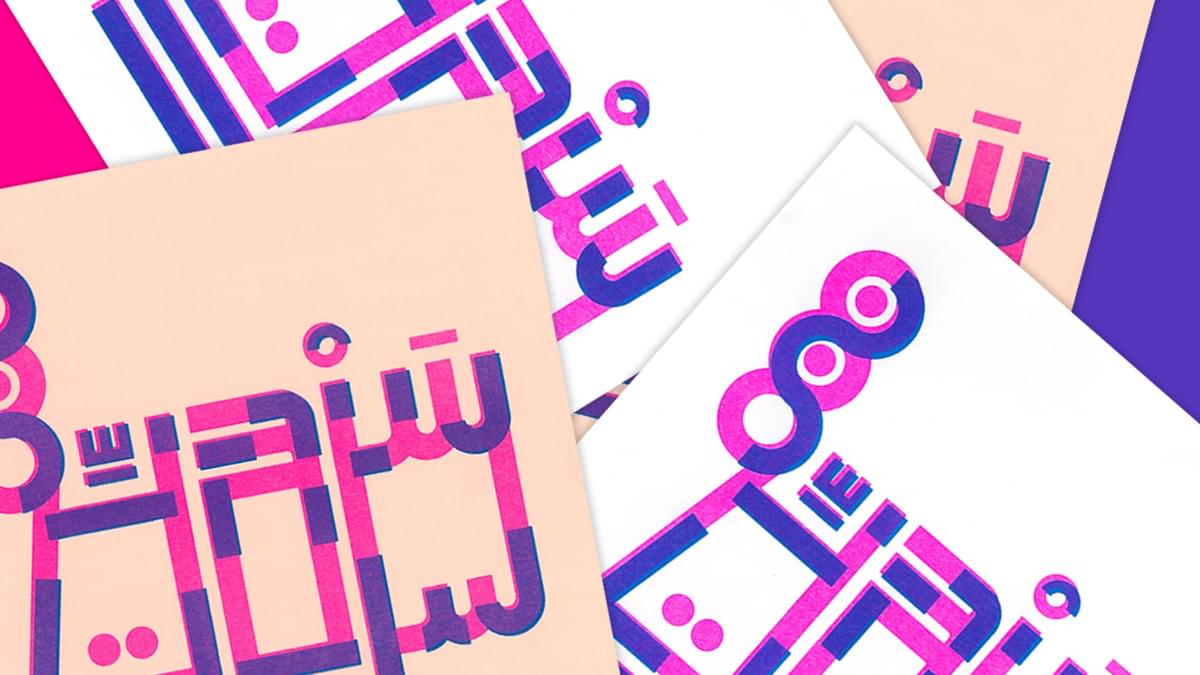 Join artist, illustrator and calligrapher, Ibraheem Khamayseh for a workshop using Arabic scripts with the Tashkeel RISO ME-9350E; a machine that uses eco-friendly, soybean oil-based ink for high-speed, high-volume artwork duplication; popular among illustrators, photographers and artists around the world for its low cost, multiple options and features.
The three-hour session begins with Ibraheem explaining about different Arabic scripts; their origins and styles. Focusing specifically on the Kufic Square script, participants will choose a selection of letters and experiment with proportion and scale, learning to connect these letters to create beautiful forms, volumes and variations. These then become the subjects for experimenting with the Risograph, turning a calligraphic artwork into a two-colour print. Participants will learn how to prepare the Risograph and how colours are layered. You will develop your calligraphic image by observing the colours and textures of the outside and inside of a letter, arranging a visual composition to allow experimentation with colour, line, and value.
By the end of the workshop, participants will not only have a finished artwork but also a detailed understanding of the Risograph artwork production; able to integrate this process into their own art practice moving forward.
*Suitable for graphic designers, artists and illustrators of all levels, aged 15 years and above.

*This session shall be preceded by an introduction to Make Works UAE by Tashkeel, the online directory of manufacturers, fabricators and suppliers for the art and design community. Make Works UAE is supported by Dubai Culture.
Opening Hours
Tashkeel Alserkal Gallery
Sunday - Thursday: 10 am - 4 pm
Friday & Saturday: Closed
Tashkeel Nad Al Sheba
Temporarily closed for renovation
How to find us