Etchfest 2: Aquatint
Starts - Sunday
25 June 2023
Diego Mendoza MFA is the Education & Outreach Coordinator at Tashkeel. Originally from Mexico, he holds a BFA in Painting and Printmaking (from VCUQ) and a Masters in Arts & Educational Leadership. He has worked in in the cultural and private education sectors of Qatar, Indonesia, Dubai, Tanzania and Mexico.
Schedule:
Date: 25 June 2023
Time: 2 - 7 pm
Capacity:
8 spaces left
Location:
Al Safa Art & Design Library
Fees:
AED 450.00 (+VAT)
Please note that fees are non-refundable.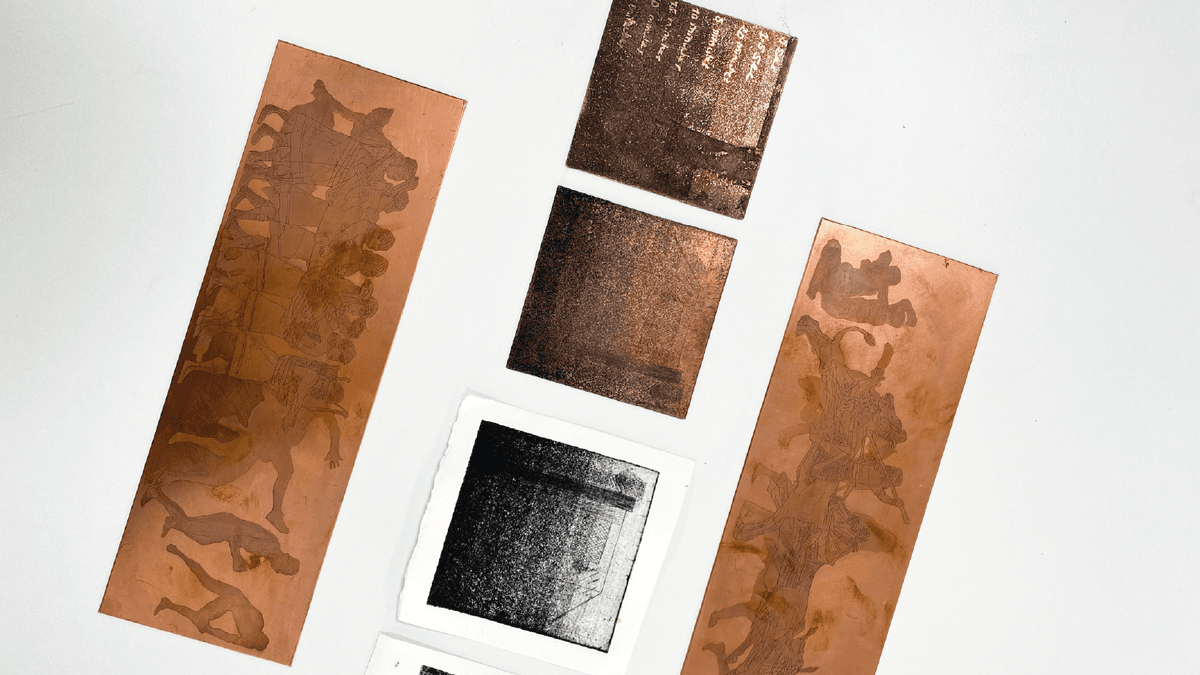 Falling under the intaglio family, etching is done using a metal plate (usually zinc, copper or aluminum) to create an image, leaving the plate with grooves for the inks to settle in. This intermediate-level workshop delves deeper into the intaglio printing technique of etching, specifically focusing on the aquatint process. Aquatint allows printers to create a wide range of tonal values, from delicate and nuanced to rich and dark, resulting in more complex and intricate prints.
During the 5-hour workshop, participants will learn how to properly prepare their copper plates, apply spray aquatint evenly, create a range of tones through step biting, and remove unwanted marks or create highlights. They will also learn how to print and edition their plates on high-quality printmaking papers using a printing press.
By the end of the workshop, participants will be equipped with further understanding of the etching process as a whole and its abundant possibilities, safety and studio etiquette, and the ability to keep exploring intaglio printmaking on their own.
The workshop is ideal for those who have prior experience in hard-ground etching or who have participated in the first Etchfest session and wish to expand their knowledge.
If you have any questions, please email us at: [email protected]
Presented by Tashkeel in collaboration with Sikka Platform and Al Safa Art & Design Library
Opening Hours
Tashkeel Alserkal Gallery
Sunday - Thursday: 10 am - 4 pm
Friday & Saturday: Closed
Tashkeel Nad Al Sheba
Temporarily closed for renovation
How to find us