Artist's Talk: The Acayeism of Art Making
Ended - Tuesday
4 October 2022
Acaye Kerunen is a multidisciplinary performance and installation artist, storyteller, writer, actress and activist based in Kampala, Uganda. She was named by Vogue Italia Magazine in 2012 as one of the social activists in Africa to watch. An actress since a young age, Acaye became Founding Director of KEBU Theatre and has gone on to work with other theatre companies as director, producer and composer. Her poetry and musical theatre scripts have been published and premiered by the Uganda National Theatre as well as Phoenix Theatre in Kenya. A writer for various online and print media, both locally and internationally, her stories have been published by Uganda's Ministry of Education, Bayimba Productions and FEMRITE – Uganda Women Writers' Association. Acaye holds a BSc in Mass Communication and a Diploma in Information Systems Management.
Schedule:
Date: 4 October 2022
Time: 5:30 - 7 pm
Capacity:
15 spaces left
Location:
Online talk
Fees:
AED 100.00 (+VAT)
Please note that fees are non-refundable.
A zoom link will be sent upon registration.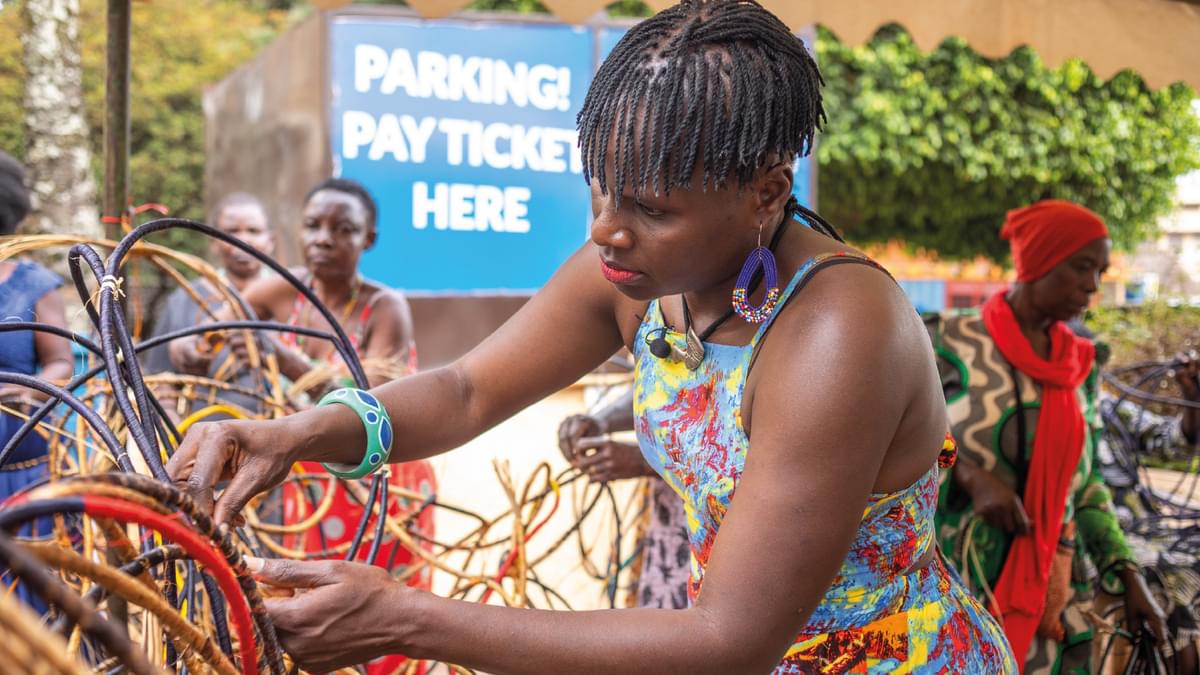 For this Artist's Talk, Tashkeel welcomes performance and installation artist Acaye Kerunen to discuss her visual art practice, which is rooted in craft, collaboration, female empowerment and environmental consciousness.
Acaye employs natural fibres in hand stitching, appending, knotting and weaving – all tasks she watched her mother do in her work. Having grown up in Uganda at a time when Kampala's landscape was changing fast from a lush green land to a concrete expanse, her installation and multimedia works question how the earth can continue to feed and sustain populations, holistically and practically. Her practice is founded upon a strong conviction in Ugandan women's empowerment and an intention to address authentic creation as lived experience. She orchestrates outcomes of collaborative work with local craftswomen into installations that question the relationship between fine art and craft as predicated by western art traditions. In doing so, Acaye seeks to illuminate her sense of place and context as the centre of creative gravity, rather than that which is predicated on western doctrine.
This is an excellent opportunity to learn about the diverse practice of one of Uganda's leading cultural practitioners and its relation to current discourse around female empowerment, craft, identity and the environment.
Opening Hours
Tashkeel Alserkal Gallery
Sunday - Thursday: 10 am - 4 pm
Friday & Saturday: Closed
Tashkeel Nad Al Sheba
Temporarily closed for renovation
How to find us