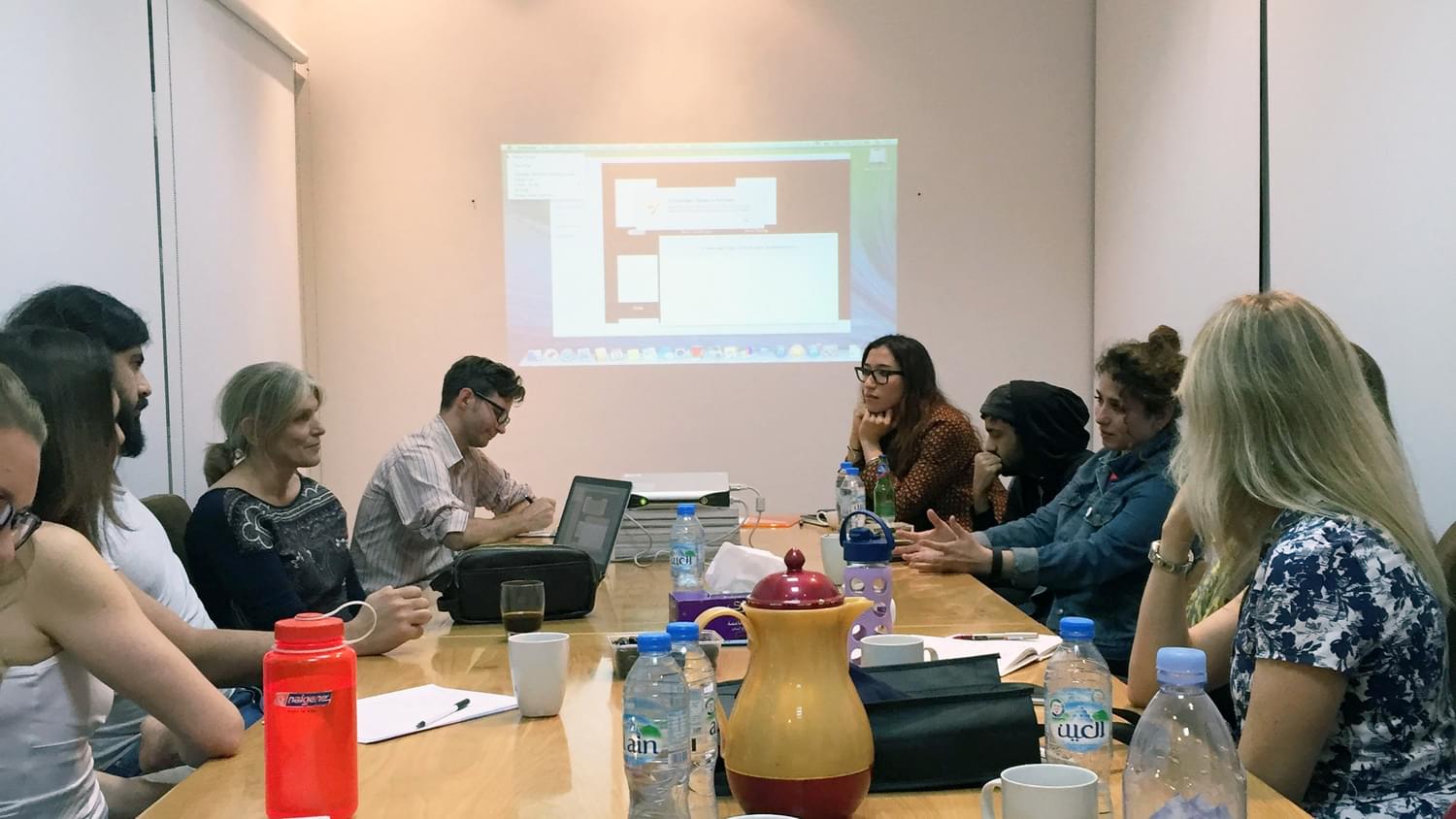 Tashkeel launches the call for applications for Critical Practice Programme 2018-19.
The Critical Practice Programme offers studio support, critique and production for practicing contemporary artists living and working in the UAE up to one year. The programme generally culminates in an exhibition, publication or other digital/physical outcome. Each artist's programme is carefully constructed and built around the individual's practices and/or areas of research. Tashkeel works with the artist to identify a key mentor to both build, challenge and guide them through the programme. This mentor can be an artist, curator, critic or arts professional with whom the artist feels both comfortable working but also, whose own area of research and/or practice ties in with the proposed programme and focus areas. Ongoing participant updates are posted via a blog on the Tashkeel website at key points in the programme.
In short, the aim of the programme is to provide the artist with sustained support to develop their work in an environment that encourages progressive experimentation, cross-disciplinary exchange and cross-cultural dialogue. Outcomes feeds into the Tashkeel annual programme.
Critical Practice Programme Outline
Selected participants will be expected to work on the development of their practice with the guidance of an appointed mentor selected by Tashkeel in consultation with the artist. They will be provided with full Tashkeel membership with regular interaction and on-going support from Tashkeel staff and access to all facilities for the duration (up to one year, which is decided by Tashkeel in consultation with the artist).
Tashkeel allocates a specific budget to each artist at the beginning of the programme, which includes the production of artwork and the accompanying publication. It is the responsibility of the artist to work within that budget.
Whilst the programme acts as an ongoing residency format, it is understood that applicants may have other commitments and therefore not be able to commit on a full-time basis.
Phase 1
Identify and clarify intended area(s) of study
Regular use of Tashkeel and its facilities
Regular sessions with the appointed mentor
Update sessions with CPP Coordinator
Participation in group workshops
Input to the Tashkeel website via a blog (project updates such as findings, images, sketches, conversations, found relevant articles and reference artists)


Phase 2
Documentation and archiving of processes and explorations
Review and planning session (outcome of production timeline agreed with Tashkeel)
Production of body of work ready for solo exhibition at Tashkeel gallery space at Nad Al Sheba or equivalent (i.e. film/sound/publication/performance/intervention/digital asset/other) as agreed with Tashkeel
Delivery of body of work at Tashkeel, including supervision of installation; execution of accompanying catalogue/publication
Availability for press interviews and any other marketing/promotional activities
Availability to deliver guided tours (if applicable), talks, workshops or other activities.
Exit session with CPP Coordinator
Phase 3
WHO IS ELIGIBLE TO APPLY?
Artists currently resident in the UAE
Over the age of 21 as of 15 March 2018
Working in any discipline(s)
Not yet represented by a gallery
Hold a third level qualification or equivalent experience
Committed to pursuing a self-directed programme of development
Interest in delivering talks, workshops or other forms of public engagement
A strong portfolio demonstrating sustained investigations into specific themes and/or topics
SUBMISSION PROCEDURE
Applicants are required to submit by 6pm, 15 March 2018 the following to [email protected] with 'CRITICAL PRACTICE PROGRAMME 2018' as the subject:
Statement outlining approach and influences; highlighting areas applicant wishes to explore during the programme
Biography
Images of 6-10 recent works (JPEG, 300DPI) sent via wetransfer.com or other labelled 'CPP 2018 – [ARTIST'S NAME]'
SELECTION PROCESS
All applicants will be notified by 28 April 2018.
The selection panel's decision is final and no correspondence shall be entered into.
Application Deadline: 6pm, 15 March 2018