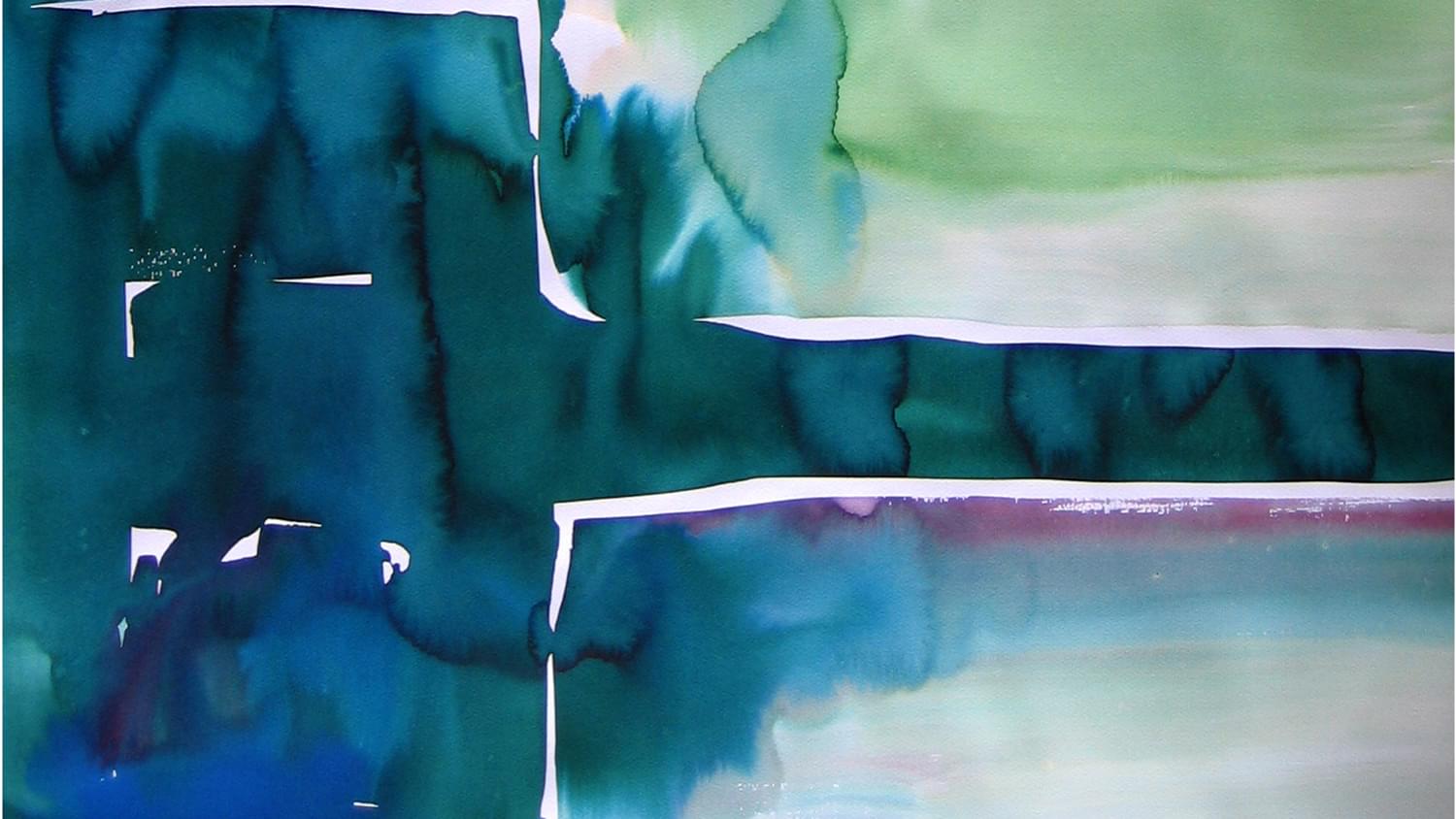 In her exciting, multifaceted debut exhibition entitled 'Explorations in Watercolour and Beyond', Durtan explores a variety of concepts and, in her creative journey, demonstrates her explorative nature and highly developed skills as an artist, designer and craftsperson through various media including watercolour and sculpture.
'Urban Landscapes' is a collection of watercolours inspired by the architecture of modern Dubai. Geometric forms, a precise watercolour style and a sensitive colour palette capture a truly unique sense of place, with Durtan's interpretation of the Dubai cityscape featuring some recognisable cultural references, yet remaining authentic and original in both content and style. Urban Landscapes is an ongoing project and the artworks on display have been selected from a larger series. Through them we see the artist experimenting with scale and modular compositions.
'Landscape with Argonauts' is a collection of experimental abstract watercolour paintings influenced by compositions of the famous avant-garde composer 'Heiner Goebbels'. Durtan believes these abstract artworks may be the result of chromesthesia (a common form of synesthesia) – seeing sounds as colours. Particular sounds from the compositions change the perceived hue, brightness, scintillation and directional movement. Durtan also describes these pieces as "simultaneous landscapes" as they capture a moment in time when reality and dream are merging.
In contrast, 'Free-form 1-3' adds intimacy, warmth and balance to the show, as Durtan exhibits her finished organic forms sculpted from wood – a material deeply significant and close to her heart. Durtan carefully selects local, ethically harvested woods appropriate to the local environment; 'red meranti' – often used in boat building – was used for these sculptures. The entire process is long and laborious, ranging from wood sourcing, drying and sawing to finally carving using a handheld chisel – a practice that involves working in solitude for several days. As Durtan carves these forms, "they reach one level down, a little bit deeper under the skin, one shelf closer to the soul".
About Dominika Durtan
Dominika Durtan is a Dubai-based artist, designer and illustrator. She was born and raised in Poland, but most recently lived in New York working as an art/creative director and freelance artist before moving to the UAE. She holds a Master of Arts diploma from the Academy of Fine Arts in Łódź, Poland (www.asp.lodz.pl).Durtan has extensive training in a range of media including ceramics, computer graphics, pencil drawing, oil painting, sculpture, woodcarving, and watercolour painting, which she...