Neda Salmanpour
Discipline:

Architecture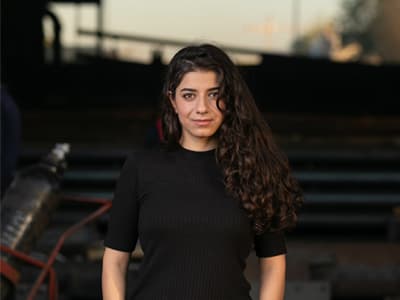 Neda Salmanpour is an Iranian architect, product designer and researcher based in Dubai. She is currently exploring the relationship between the regional design language and mathematics, while utilising available technologies and materials. Neda's work is process-driven and research-based.
Neda is an Honours graduate of the University of Sharjah, and her thesis was awarded and published internationally. Her passion and dedication to architecture and design has continued into practice. She currently works as an architect at Binchy and Binchy Architecture, ranked in 2019 as among the Top 20 Boutique Design Firms in the Middle East. She was recently nominated as 'Young Talent of the Year' by Design Middle East Award and currently serves on the Architectural Engineering Department Advisory Board at the University of Sharjah.
Neda Salmanpour produced 'Qaws' as part of her participation in Tanween 2020.
Opening Hours
Tashkeel Alserkal
Gallery, Unit 58, Alserkal Avenue
Sun-Thu 10am – 7pm, Fri 9am–12pm
(closed Saturdays & public holidays).
Makerspace, Unit 89, Alserkal Avenue
Sat-Thu 10am – 7pm
(closed Fridays & public holidays).


Tashkeel Al Fahidi
House 10, Al Fahidi
(members only)


Tashkeel Nad Al Sheba
Nad Al Sheba 1

Temporarily closed for renovation
How to find us