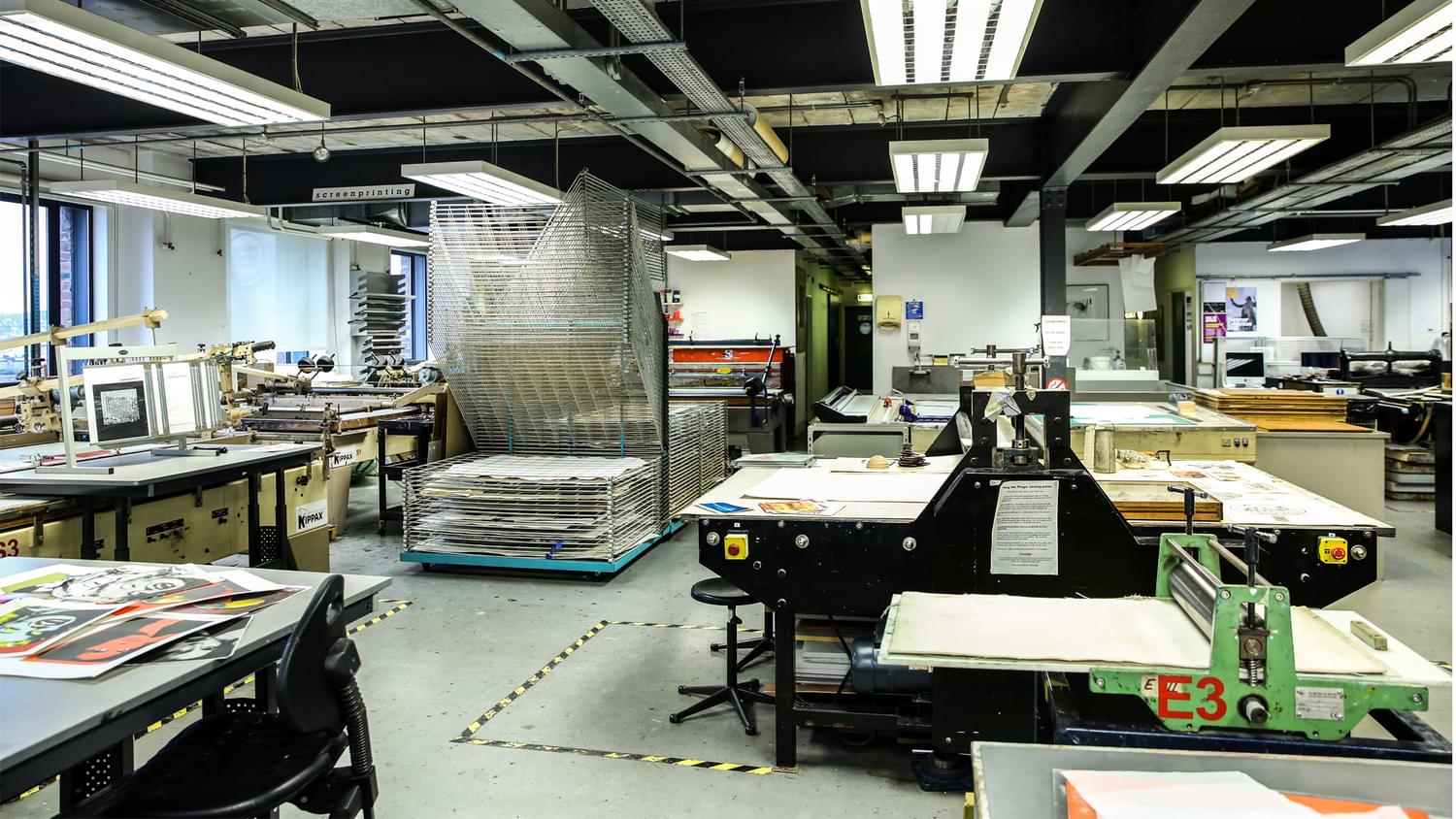 Tashkeel is proud to present a new Artist in Residency exchange taking place this year in collaboration with Dundee Contemporary Arts (DCA) in Dundee, Scotland. Emirati printmaker Salama Nasib was selected for the first part of the residency exchange. In April/May 2019, DCA hosted printmaker Salama Nasib supported by British Council (UAE) as part of the Dundee Contemporary Arts/Tashkeel residency. In addition to studio time plus tuition from DCA specialist staff in the state-of-the-art DCA Print Studio, Salama worked with the learning team on print workshops with a range of community and education groups both in DCA and across Dundee. This included a collaboration with Al Maktoum College. She also visited key organisations within the city, including V&A Dundee and the Dundee Print Collective as well as visits to key organisations in Edinburgh and Glasgow.
Scottish printmaker Sarah Burt has been chosen to undertake the second part of the Dundee Contemporary Arts/Tashkeel residency. This will take place at Tashkeel. During her four-month residency at Tashkeel from September to December 2019, Sarah will have full use of the facilities at Tashkeel to develop and experiment with her arts practice, while contributing to the community through workshops, talks and studio sessions for adults and young people. The residency will culminate in a public presentation at the end of the year.
Her painting and printmaking have a strong focus on character design, often inspired by different cultures' traditions and beliefs and represent intangible things such as emotions and concepts. An experienced teaching-artist, Sarah has also extensive experiences in running workshops in zine-making and other techniques for adults and young people.

Print is a common language across borders and has been so for centuries, from its earliest use in sharing knowledge (such as early woodcut pharmacopeias), currency, politics and beliefs. This language has evolved through the invention of many technologies, now including the digital, and remains a vital means of exchange among artists of many nations. The aim of the residency is to give artists opportunities to develop their practice, extend their network and gain a greater understanding of working internationally. Resident artists are encouraged to push the boundaries of their practice through experimentation, and engage with the wider community through workshops for schools, universities and youth groups. Engaging with UAE-based professional arts practitioners, the artists will lead workshops and talks/seminars that address their own practice, skills-sharing, and exchange of knowledge.



Artist-in-Residence
Opening Hours
Tashkeel Alserkal Gallery
Sunday - Thursday: 10 am - 4 pm
Friday & Saturday: Closed
Tashkeel Nad Al Sheba
Temporarily closed for renovation
How to find us